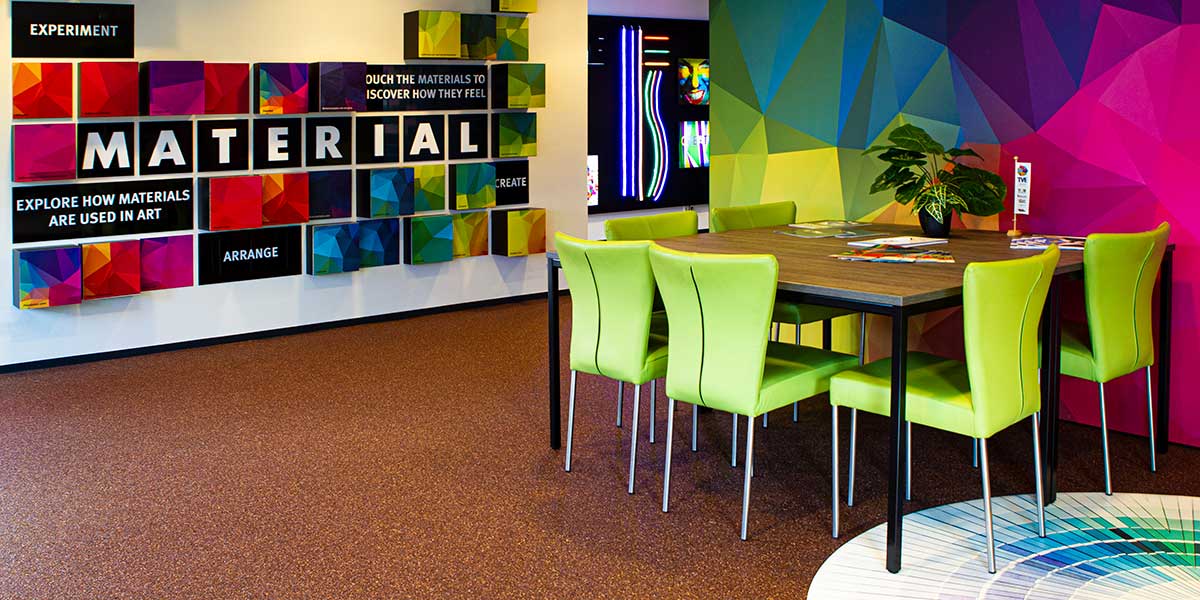 Robust machine prints quickly and well
TVE Reclameproducties is testing Oberon RTR3300
TVE Reclameproducties has been testing the new Oberon RTR3300 roll-to-roll printer from Agfa for almost a year. According to owner Hennie van Osch, it is a robust machine. "Built to European standards." Faster and with better print quality than its little sister, the Anapurna RTR3200i LED, of which TVE has two. The media reach is wide. "If you cannot print media on the Oberon, you cannot print them on anything."
The TVE Group employs a total of approximately 130 people. "The strength of our group is that we can produce almost everything in-house," says Van Osch. The machine park in Dedemsvaart and Velp, for example, includes printers from brands such as Durst and Efi Vutek. In Sint Oedenrode especially Agfa, a lot of Agfa. Van Osch: "How did that relationship come about? We had two Gandi machines. When Agfa took over the activities of this printer manufacturer, they also got all the misery we had with Gandi on their plate. They suffered from this for over a year and a half, without grumbling. I will never forget that. Their service and support team is good. That's why Agfa is the first to sit at my table when I need to take a next step."
The youngest member of the Agfa family located in Sint Oedenrode is the Oberon RTR3300 that would be demoed at Fespa in Madrid. Since July 2019, TVE Reclameproductions has been testing this 3.3-meter-wide roll-to-roll printer. "TVE is the alpha site for this machine," says Pedro Overmeer, Sales Manager Inkjet Nederland at Agfa. "They often test things for us, but this is the first time that an alpha machine has been installed at TVE. We are extremely happy with their feedback. It is actually surprising how few start-up problems this machine, which is equipped with six high-frequency Kyocera print heads, has had."
Twice as fast
The Oberon RTR3300 is available in a four-color version with white (2x) or a six-color version (CMYKLcLm), depending on the user's needs. At TVE, tests were first done with four colors and later the machine was converted to six colors. "We have enough other printers that can print white", Van Osch explains. "Our aim is to make optimum use of the high production capacity of the Oberon. Higher quality and speed, that is what sets the Oberon apart from the 3.2 meter-wide Anapurna roll-to-roll printer. The speed has more than doubled." In 'Express mode', the Oberon reaches 150 square meters per hour and in 'Production mode' 85 square meters.
Van Osch: "It is a robust machine, built to European standards." For example, the shuttle with print heads is heavier and does not move along the beam with a rack, but with the aid of a linear electric motor. "You barely hear it." With the dual-roll option, two rolls of up to 1.6 meters wide can be printed simultaneously. "It works very well. There are two separate shafts that independently keep the media at the correct tension when winding and unwinding."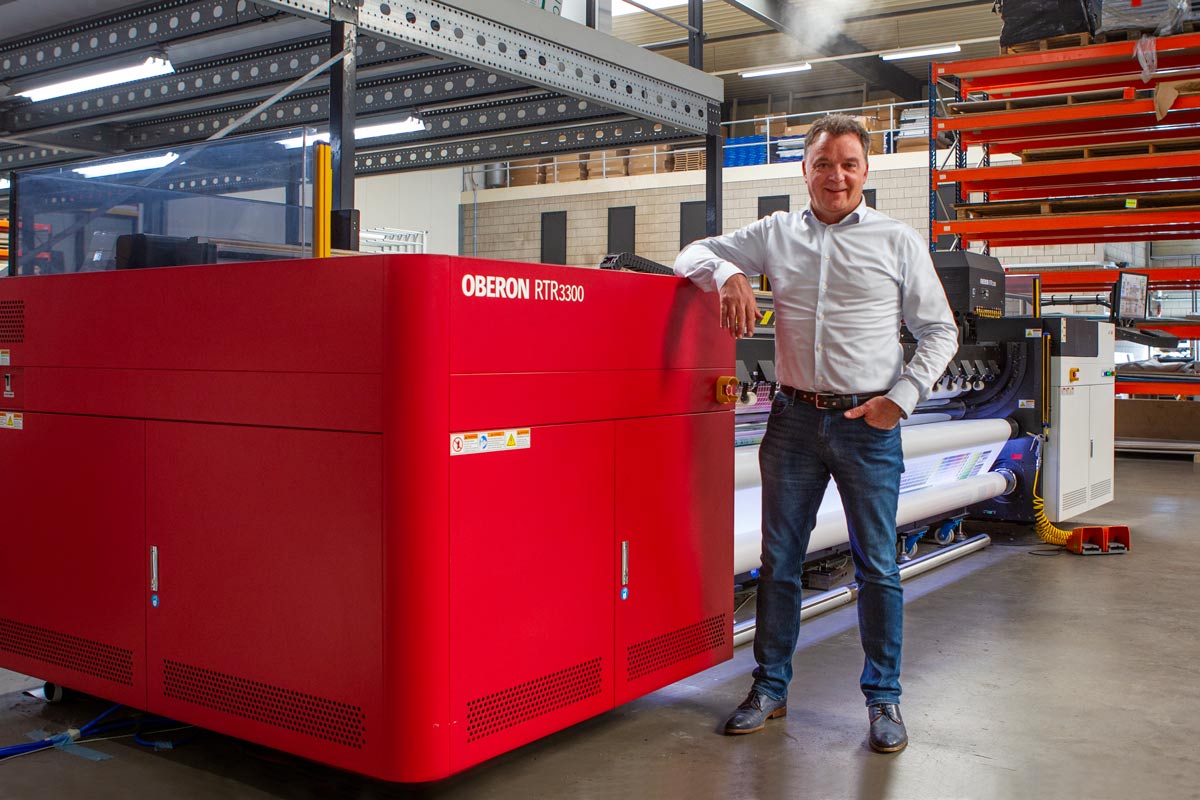 Hennie van Osch, owner of TVE Reclame productions, with the Oberon RTR3300: "It is a robust machine, built to European standards."
Solid colors
The UV LED inks on the Oberon RTR3300 are optimized for flexible media and excel in solid color printing. They achieved the highest category of GREENGUARD Gold certification, meeting the strictest chemical emissions standards. Van Osch: "Ideal for, for example, seamless wallpaper applications, such as Airtex, suitable for sensitive indoor applications. Think of schools and care institutions."
The Kyocera printheads can jets drops of three picolitres. In order to give the ink drops sufficient mass for an exact placement on the media, three drops are automatically combined into a drop of nine picolitres (the Anapurna is at twelve picolitres). "You can see that in the image quality," says Overmeer. Very small details are possible, such as positive text in four points and negative text in six points. The flexible Agfa UV inks have a long outdoor lightfastness; unprotected for two to three years and protected with laminate for up to fifteen years.
Central nervous system
Not only the Oberon RTR3300 is controlled at TVE by Asanti – Agfa's large-format workflow software – but virtually all machines in Sint-Oedenrode are part of this network, including the Mimaki printers and a Summa cutting table. "We chose Asanti less than four years ago because we have so many Agfa machines, but now we attach everything to it via a plug-in," says Hennie van Osch. Many daily operations in Indesign are automated in Asanti. So it is more than a rip. Asanti acts as the company's central nervous system, automating and simplifying the entire printing process; from prepress, through the actual production to the finish. The central management at TVE goes so far that Asanti is fully integrated with its own webshop. Complete color management is also done in Asanti.
Broad media coverage
The Oberon RTR3300 is suitable for a wide variety of media and applications. In addition to the air-cooled LED curing lamps, the printer has a water-cooled table that keeps the print zone at room temperature. Therefore, in principle, any type of heat-sensitive roll material can be processed, including the cheaper media.
Van Osch: "If you cannot print certain media on the Oberon, you cannot print them on anything.
We first used 120 grams of paper, now it is 55 grams if we have to. It all goes smoothly. In practice, however, we hardly use this printer for these kinds of jobs."
The special mesh printing kit, with or without backing, is widely used. "Such a kit is not available on the Anapurna. There we use liner. In terms of cost, it does not matter much, but you have extra waste that you have to remove and clean up. That does not make one happy," says Van Osch.
User friendly
Media can be loaded quickly by a single operator, thanks to a unique setup. On the input and output sides there are additional pinch rollers in front of and behind the transport rollers that hold the media and therefore enable free fall printing. This means that a media roll does not have to be fully stretched before printing can begin. "This comes in handy for small urgent orders in between jobs.
You can cut an order in the middle of the roll, without losing the web tension. And you have less media waste," says van Osch. "Shedding about fifty centimeters instead of two meters, that makes a lot of difference."
According to him, the integrated light bar on the printer is also easy to check the quality of backlit productions.
Agfa family at TVE
UV printers
2 Anapurna RTR3200i LED 3.2 m roll-to-roll
1 Jeti Titan flatbed printer
1 Jeti Tauro 2.5 m hybrid printer
1 Oberon 3.3 m roll-to-roll
Dye sublimation
4 Ardeco's 3.2 m roll-to-roll
Finishing
1 Acorta 3×2 m cutting and milling table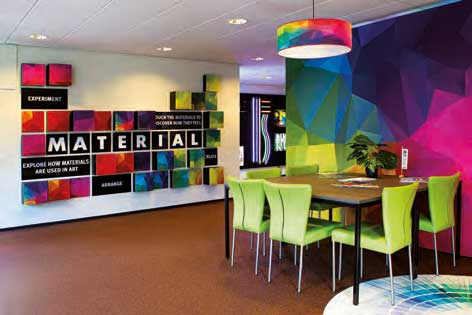 The new showroom of TVE in Sint-Oedenrode is almost ready.