"We were simply blown away by the show-through the Avinci could offer"
One of the UK's largest fabric printers, Northern Flags, is flying the flag with Agfa, having invested in three Avinci fabric-printing engines, an Anapurna roll-to-roll sign & display printer and an Asanti workflow solution for their Leeds facility.
Northern Flags, which has a history of more than three decades in supplying flags, and sister brand FaberExposize, offering extended print POS solutions, re-shored a proportion of print into the UK five years ago. The business required a faster and wider inkjet solution and a quality dye-sublimation printer with maximum show-through results.
The company became an Agfa customer at the time with the installation of an Avinci DX3200 dye-sublimation engine – the predecessor of Agfa's Avinci CX3200 engine – and an Anapurna hybrid 3.2m wide-format inkjet engine, both driven by Agfa's Asanti workflow software. The installation was part of the company's £1m investment in the UK in new premises and equipment.
"What blew us away was the show-through on the back that the Avinci could offer," said Iain Clasper-Cotte, Managing Director at FaberExposize UK & Northern Flags, at the time. "It has allowed us to deliver the best digital results in the market, rivaling screen print production. We have a total of some 55 wide-format printers across the group, so lots of experience, and we diligently met with many suppliers to get the right solution for our UK business. The Avinci's performance convinced us and coupled with the established and reliable Anapurna hybrid wide-format inkjet printer, Agfa reassured us that we made the right decision."
After his first investment in Agfa engines and software, Iain Clasper-Cotte was already convinced that he would be buying more Agfa printers. And indeed, in the autumn of 2021, Northern Flags became the first printing company in the UK to invest in Agfa's latest dye-sublimation soft signage printer, the Avinci CX3200.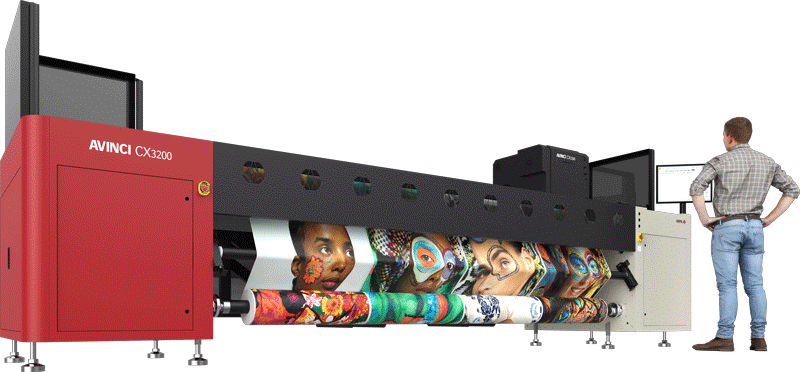 Each Agfa printer offers different strengths and having both machines gives Northern Flags the flexibility to decide which job and which fabric should go on which press. The Anapurna H3200i LED is a high-speed hybrid UV LED-curable inkjet system. The 6-color engine has a print width of up to 3.2m and combines high quality with high productivity for outdoor and indoor, rigid and flexible wide-format applications. It offers roll-to-roll or flatbed printing of materials up to 4 cm in thickness. It's also fitted with energy-saving air-cooled LED lights, which are ideal for thin heat-sensitive materials.
Whilst dye-sublimation can be a more expensive option in print, quite often the transportation and packaging make the total dye-sublimation job less expensive and better suited for a wider range of textile-based substrates than most UV inkjet solutions where the ink lies on top of the material. The new Avinci CX3200 is a dye-sublimation roll-to-roll printer bringing remarkable print quality to a wide range of soft signage applications. It's a highly productive, large-format unit, printing up to 3.2m wide with low ink consumption – both on transfer paper and directly on textile, which means it can handle a variety of substrates.
Agfa's Asanti workflow is advanced, easy-to-use, software for wide-format printing. It's a completely automated production hub featuring Agfa's award-winning color management technology. Asanti integrates with the latest version of Adobe PDF Print Engine (APPE) enabling highly specific functionalities (like nesting, see-through concept, proofing support) together with fast, automatic pre-flighting. It avoids errors, minimizes manual interventions, shortens pre-press procedures and simplifies the entire printing process.
I decided to go for Agfa again because we were looking for the perfect balance between great machines and after-sales service, and Agfa have really delivered for us on that. We have a real partnership. Whenever we've wanted to develop things, Agfa have always listened and been really responsive.
Iain Clasper-Cotte
UK Managing Director Northern Flags