Smart packaging with Doosopmaat
Personalising cardboard boxes with Agfa's Jeti Tauro H3300 LED
A small package in an oversized box: An annoyance to many. Doosopmaat.nl's business model is based on this. Their philosophy: stop packing and shipping air and avoid unnecessary use of cardboard. While digitization of finishing made it possible to say goodbye to die cutting, digital printing now puts personalization of boxes within reach. Thanks to their recently purchased Jeti Tauro H3300 LED from Agfa.
A custom-made box for the price of a standard box. More than twenty years ago, that was the starting point when Doosopmaat was founded in Waddinxveen and that is still the motto. While custom-made classic American folding boxes were supplied to a limited number of large customers, eight different box types can now be ordered in almost every imaginable size. The customer can quickly and intuitively configure and order a unique box using an online calculation tool.
Small series
"Nowadays, companies no longer want to store a hundred thousand boxes," says general manager Jurgen Vugts. "Doosopmaat fills that gap. Due to extensive digitization, we can produce small series of boxes to our customers' specifications and on demand." The flourishing of e-commerce also meant extra wind in the sails for Doosopmaat, says financial director Malko Honkoop. "In both B2B and B2C, more and more products are going directly to customers. As a result, the need to package products safely and appropriately, without unnecessary air, has grown. 75 percent of our orders now come in via the online platform, where the customer immediately sees what he is getting and what it costs."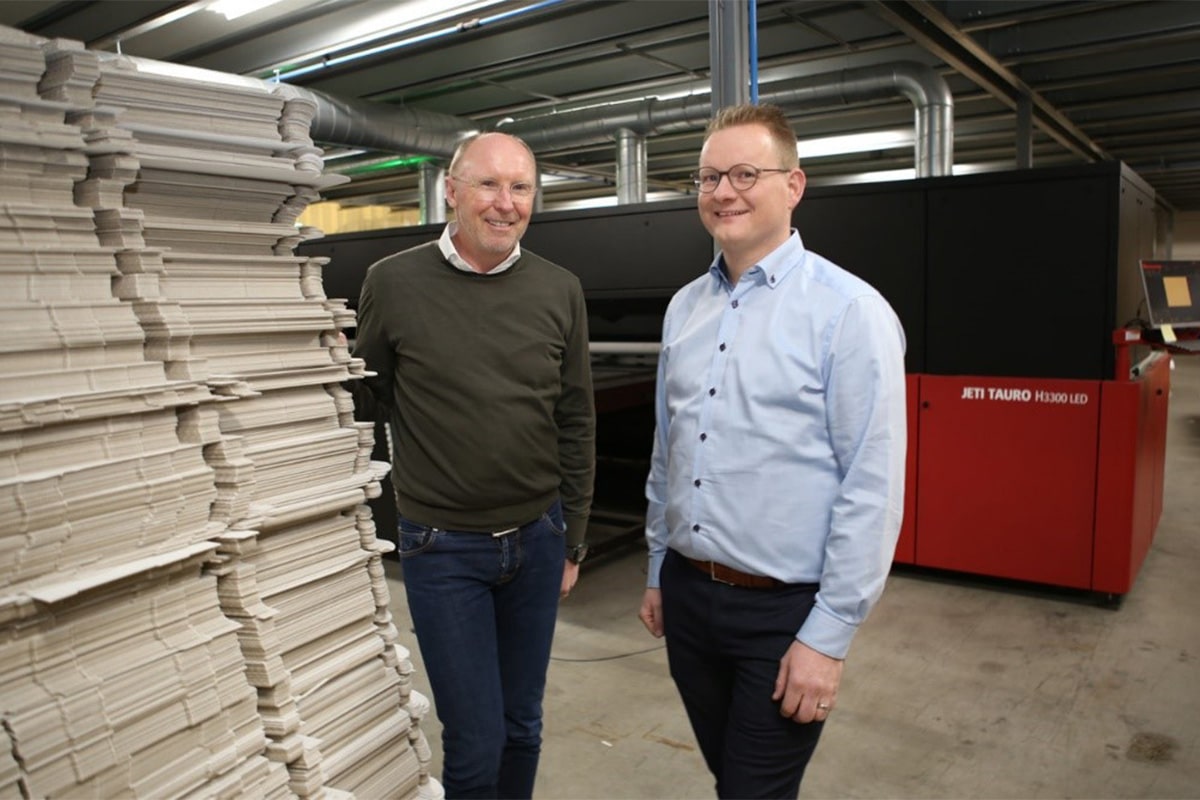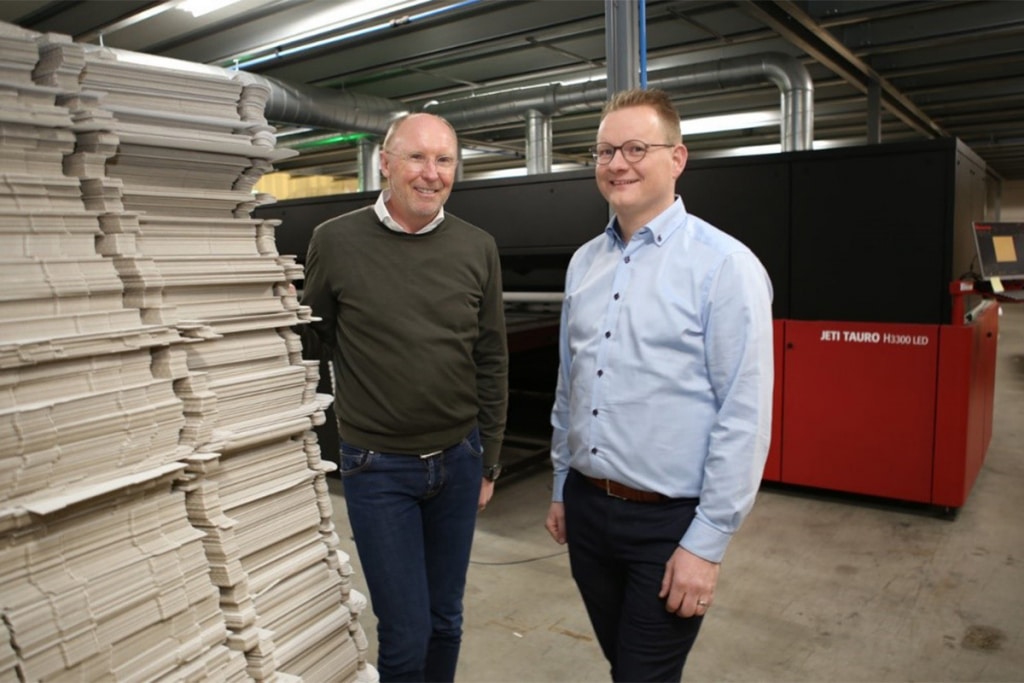 Jurgen Vugts (left) and Malko Honkoop: "We grow more than 20 percent each year."
Because there are so many different productions per day at Doosopmaat, the short changeover time of the Agfa Jeti Tauro H3300 LED is very important.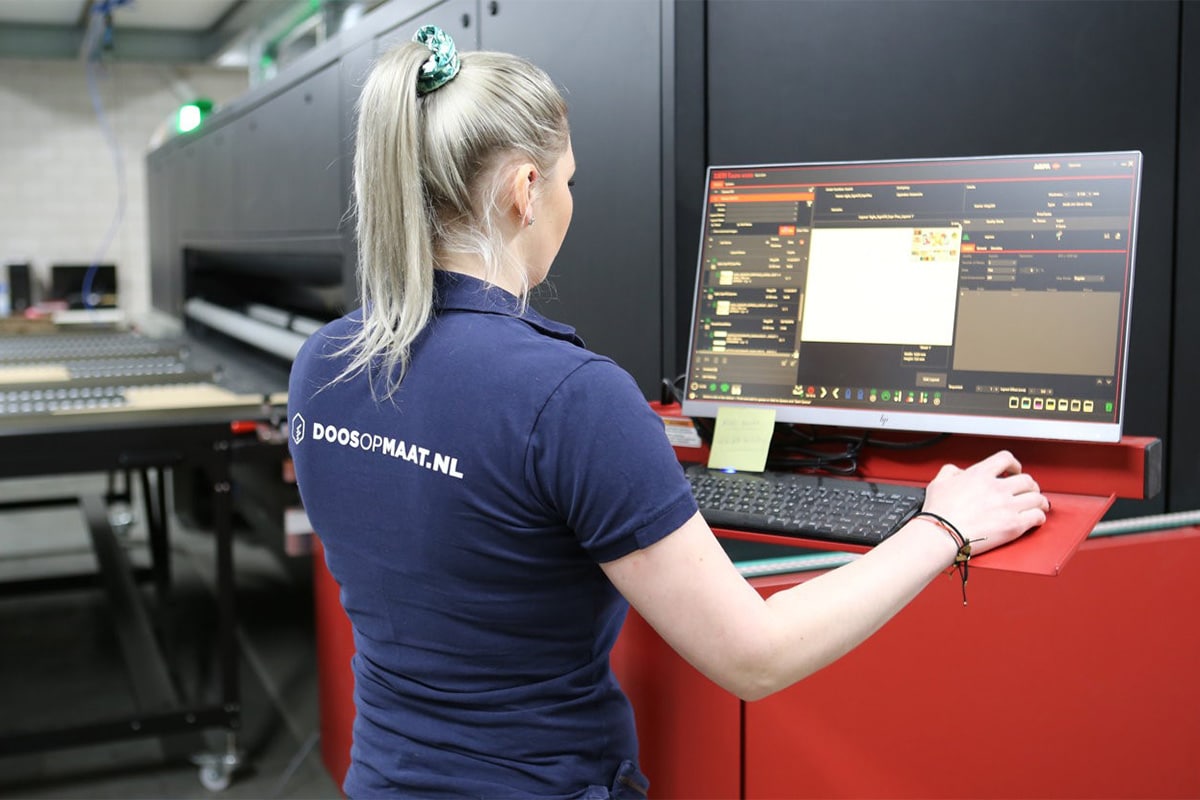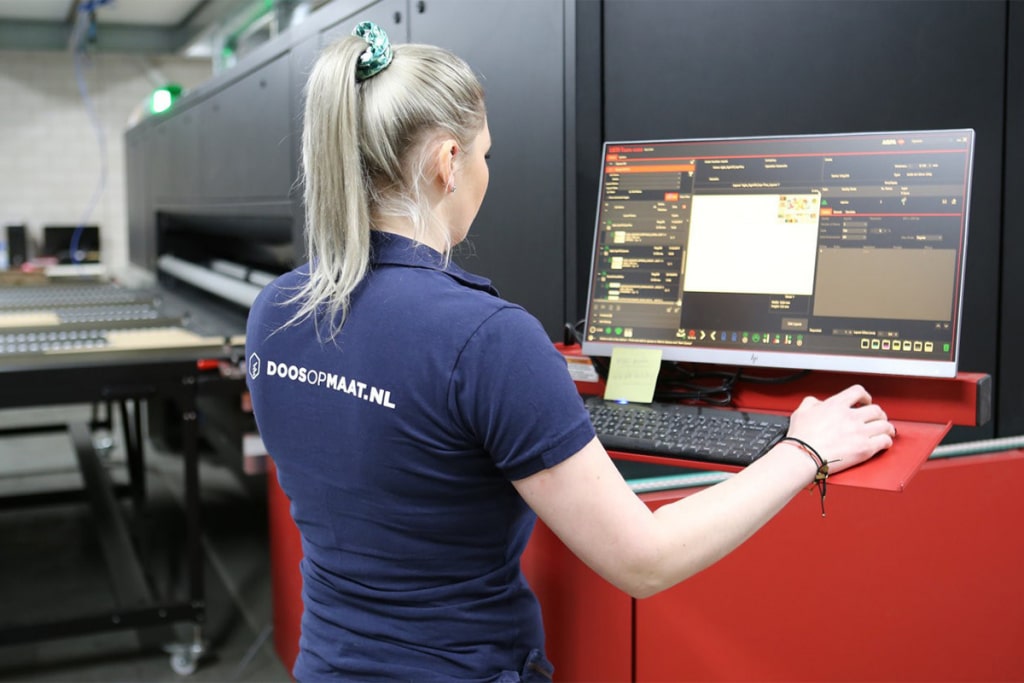 Digital address printer
The increasing demand for personalized boxes was met a few years ago with the purchase of a custom HP digital address printer. This allowed the name of the sender to be printed in black/grey on the box. Vugts: "That really took off when we started making gift boxes. A customer can now position his own printed image on the box online and is shown a 3D preview. The majority of our customers do not understand corrugated cardboard and graphics, so you have to make it as easy as possible for them. Our entire ordering process is geared to that."
About seven years ago, digital color printing (CMYK) was introduced at Doosopmaat. "One-pass printing is essential in our production process, because then you have high productivity at relatively low costs," explains Vugts. This was achieved with an Italian-assembled AEG machine with Kyocera print heads capable of printing up to 320 mm wide. "However, this machine had its limitations, while the demand for quality printing has increased. And when it came to service, there was often a confusion of tongues. You cannot have that if the security of supply of your product is central. One of our USPs is that we can have a box at the customer within 48 hours."
Main requirements
Better print quality, high production speed, high reliability (also of the service organization) and more flexibility in print formats: These were the four most important requirements with which Doosopmaat approached Agfa. Honkoop: "We drove to Mortsel twice with a truck full of cardboard to test the Jeti Tauro H3300 and to try and calculate all kinds of configurations in terms of loading and unloading. We handle about 120 to 150 different productions per day. Then you need a machine with short changeover times. Printing first and then cutting, yet vice versa should also be possible."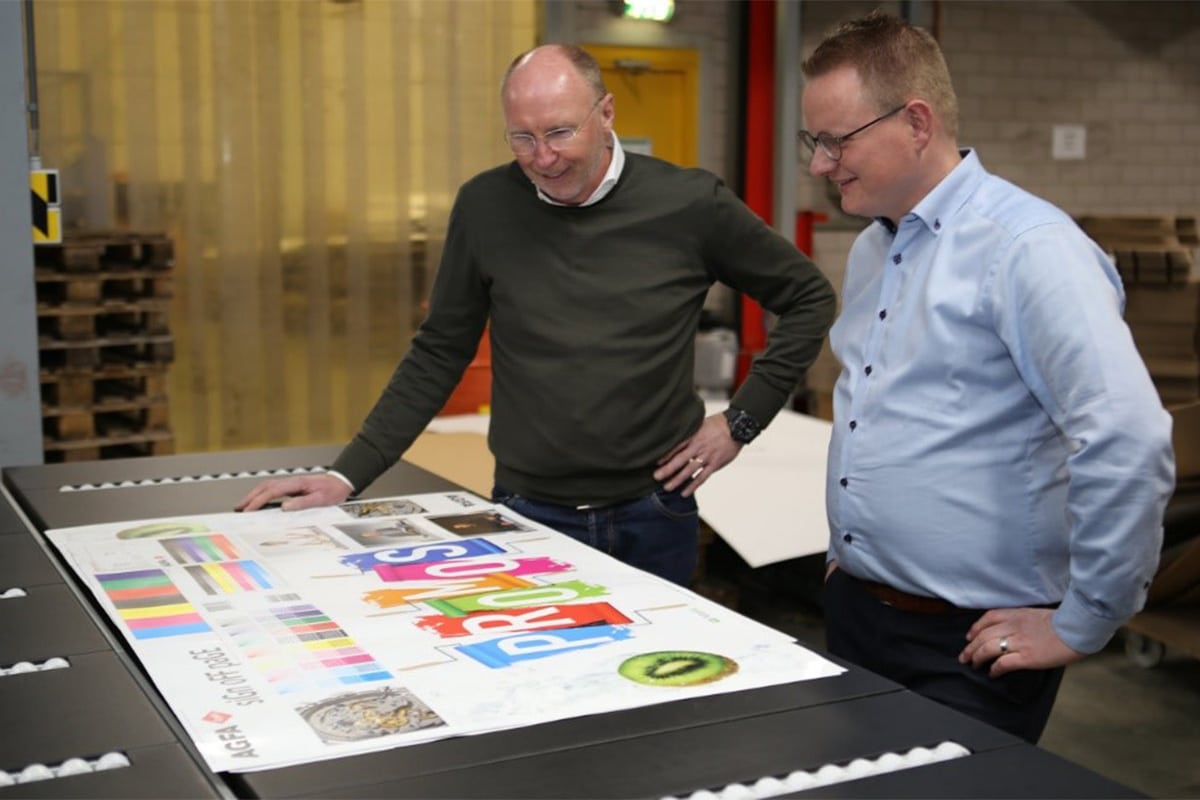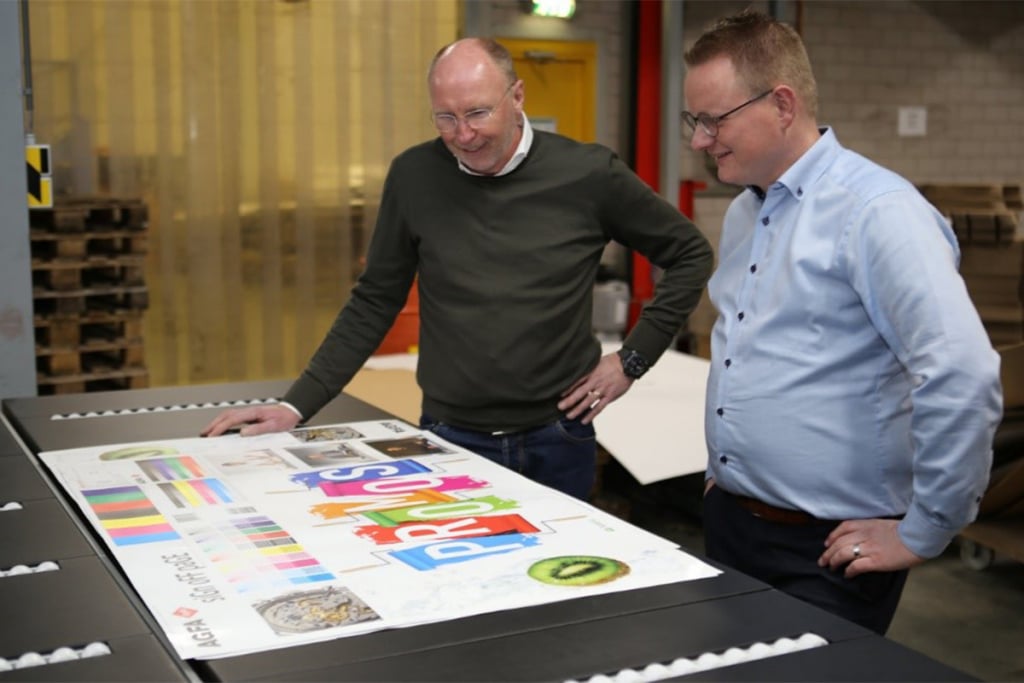 With CMYKLcLk and white it is in principle possible to print boxes in full color all around.
The strong vacuum table on the Jeti Tauro is an advantage for printing on corrugated cardboard.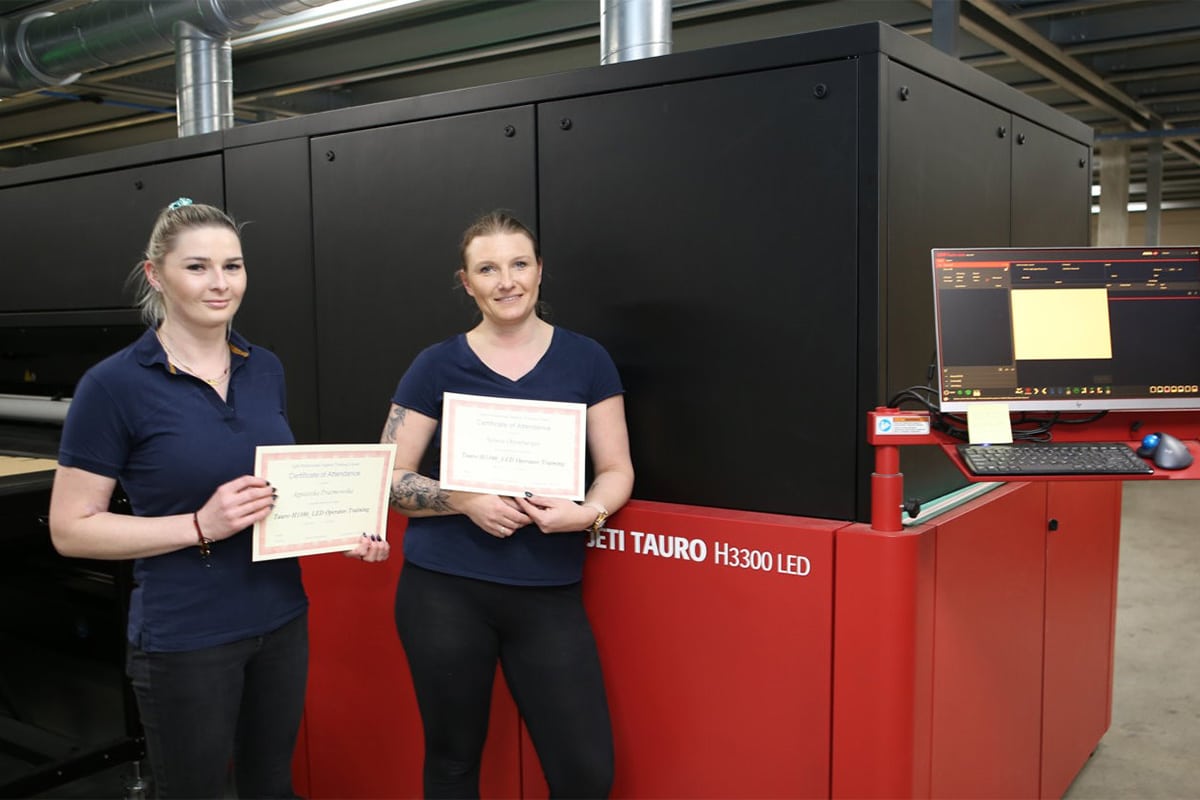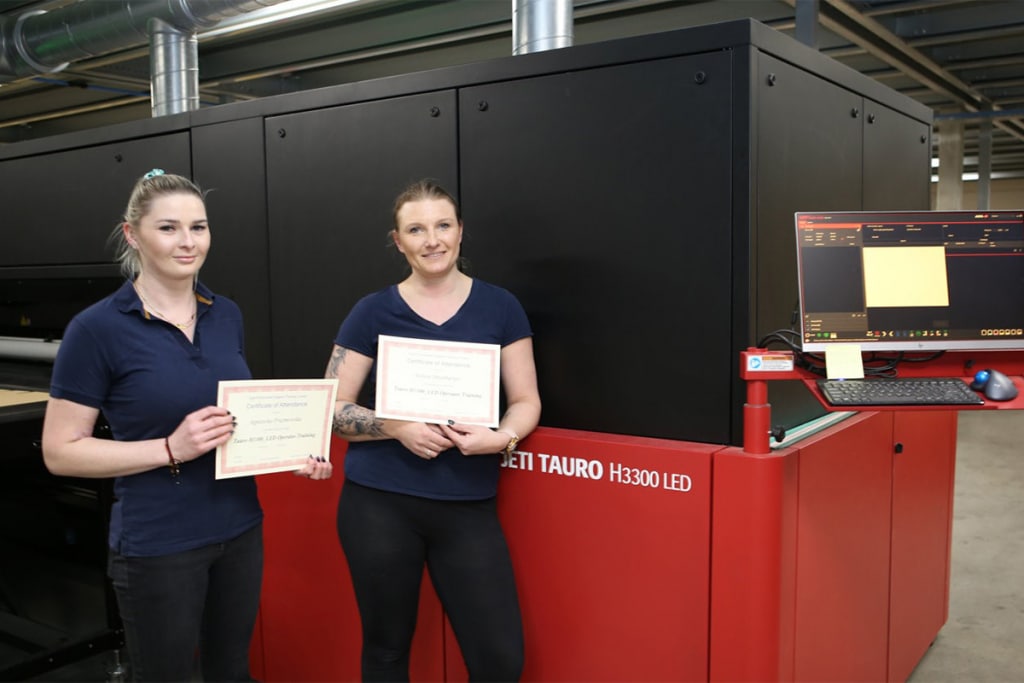 The operators have now been trained by Agfa to be able to work with the UV printer
The strong vacuum table on the Jeti Tauro is an advantage for printing on corrugated cardboard. The one-pass printing was still a thing, because a two-pass mode is actually the lowest quality that Agfa validated. Vugts: "If we only want the name of the Jansen company on a box, one pass is enough for us. With more than four plates next to each other, we then have about the same capacity as on the AEG, but in a better quality." Another condition was the ability to print white. By placing two heads with white next to each row of colors (CMYKLcLk), the Jeti Tauro can now also print white at high speed.
The row of FD Gazelle Award figurines (i.e. award for the fastest growing companies in the Netherlands) barely fits on the Doosopmaat window sill. Vugts: "We are growing year on year by more than 20 percent. Further professionalization and growth, also in Germany, are central. This investment fits in with that." Honkoop: "We will gradually move from two-sided to four-sided printed boxes, including white. And finally, we want to be able to offer our customers all-round printed boxes."