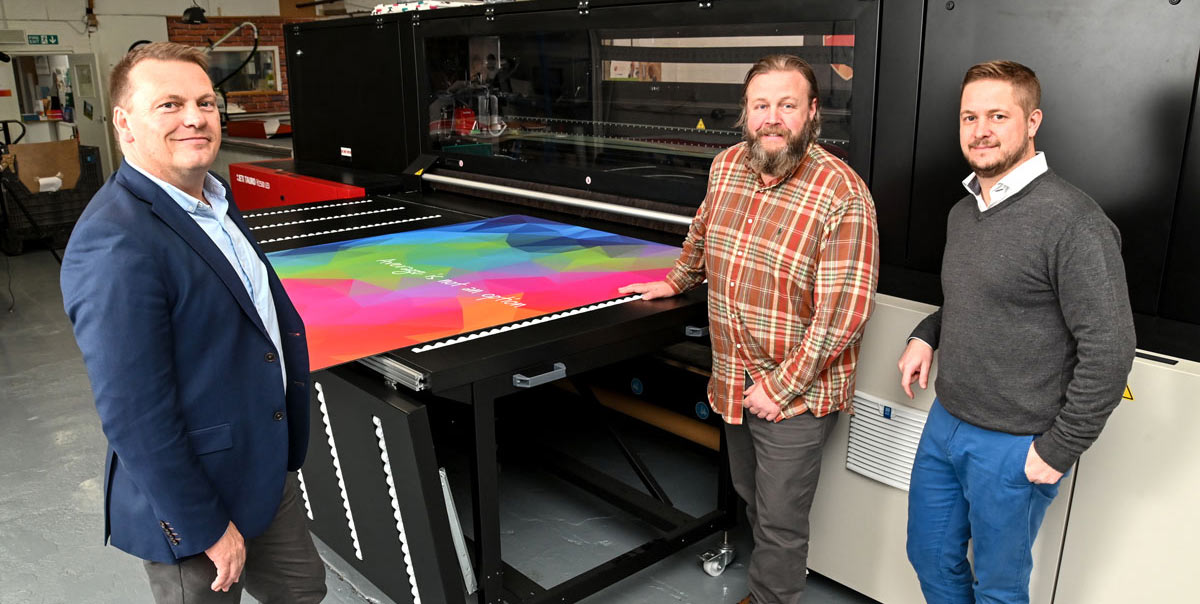 L-R: Ian Maxfield from Agfa, Paul Killeen Large Format Manager & Anthony Wyvill Commercial Director at Platinum HPL in Harrogate
Agfa's Jeti Tauro quadruples output for Harrogate printer
Harrogate printer, Platinum HPL has invested in Agfa's Jeti Tauro H2500 LED print engine, offering speeds four times faster than the machine it replaced.
The team at family run business, Platinum HPL, decided to invest in a new wide format print machine to replace the old Agfa Anapurna they had purchased three years ago.  Whilst a new Anapurna would have provided increased speed and quality, they decided to jump to a new Jeti Tauro H2500 LED hybrid printer delivering six colours plus white and primer print. The latter has enabled them to offer in-line mapped priming and the new machine gives four times the output yet uses less ink due to the Agfa thin ink layering technology. The machine, which is driven by the Agfa Asanti workflow, was installed in May this year.
Platinum HPL is a full-service printer started by David and Marina Wyvill 30 years ago with one small litho press. Whilst offset litho remains the largest part of the business today, they expanded into small format digital printing that led to the creation of a mailing department too around 7 years ago. Around the same time, a large format Canon Oce Arizona flatbed machine was also purchased to offer their customers a broader range of printed POS and display material.
The large format part of our business is growing the most at present." Said Anthony Wyvill Commercial Director for the group and son of the founder. "We were looking for a machine that would offer us a lot more capacity and speed to cope with the increasing number of jobs we have that require a very quick turn-around. We tested a lot of print samples when looking for a new printer and the Agfa machine was in our opinion the best on quality. That's something we are particularly keen on here at Platinum, perhaps due to our Litho printing roots. So, we've replaced the Anapurna and now have the Jeti Tauro to run alongside a Oce Arizona.
The Jeti Tauro is a hybrid printer with an integrated roll-to-roll system that allows manual, continuous and automated feeding of both rigid and flexible materials. It includes 32 fast-firing Ricoh ink jet print heads, each with 4 nozzle rows offering 2 colours per head.
The Yorkshire printer, that also grew by taking over Harrogate Printing Ltd (HPL) in 2016, currently employs 50 staff on their 2,230sqm, four-unit facility in Harrogate, most of whom are employed in a production capacity.  The business prides itself on offering their loyal customer base a full service for all their printing needs. The founders David & Marina Wyvill are still involved in the business although their Sales Director daughter Samantha Moulson and son Anthony, as Commercial Director are taking more responsibility for business each day.
The increasingly busy large format department in the business comprises a team led by Paul Killeen. The products supplied range from one off window displays, creative printing on acrylic, vinyl and wallpapers to pull up and outdoor banners, exhibition stands, hoardings and packaging. The new Jeti Tauro is not only quicker but allows the business to offer many new products with the quality and technology it offers.  Along with being ISO 9001 and 27001 registered, Platinum HPL is an ISO 140001 accredited company and this investment also adds to their environmental commitment with the Tauro LED lights using 50% less energy and thin ink layer technology leading to a reduction in ink usage. In fact, the ink is now GreenGuard gold certified too meaning the low-emission properties of the ink make it suitable for environments like schools and healthcare.
It may be early days but we are very impressed with the results of the Agfa Jeti Tauro to date." Concludes Anthony. "The quality of print is excellent and I really can't fault the service we have received from the Agfa business across all departments.