Grafitex Servicios Digitales boosts versatility with Anapurna H3200i LED
Grafitex Servicios Digitales, one of Barcelona's leading large-format digital printers, has expanded its printer park with the acquisition of Agfa's hybrid Anapurna H3200i LED inkjet printer. The new printer will enable them to grow their business in a sustainable way.
Grafitex, based in Barcelona, is a comprehensive provider of indoor and outdoor advertising solutions, signage, posters, advertising panels, neon prints, exhibition displays and shop window decoration, among others. They produce everything in house and also take care of installation. With over 40 years of experience, they differentiate themselves from other large-format print providers by offering value-added services such as customized projects, process digitization, and innovative creative solutions.
 Joan María Beltrán, Managing Director Grafitex Servicios Digitales
The Anapurna gives us greater versatility and flexibility to take on new projects while increasing our production capacity and response times, and maintaining the quality that our customers require.
The perfect reinforcement
Grafitex acquired the Anapurna as a second production line, complementing its Jeti Tauro H2500. It will use the hybrid large-format printer for prototyping, mock-ups, and small and medium-sized productions, especially on rigid media. The eco-friendly characteristics of the printer make it an excellent option for an environmentally conscious company like Grafitex.
The addition of the Anapurna H3200i LED enables Grafitex to increase its production capacity for high-quality jobs, providing customers with a wider range of options and the highest print quality. The new printer also underscores Grafitex's commitment to sustainability and the environment, reaffirming its position as a leading provider of innovative and environmentally friendly produced print jobs.
With this investment, Grafitex reaffirms its dedication to partnering with suppliers like Agfa, who prioritize innovation and sustainability. Moreover, this acquisition solidifies Grafitex's position as a top provider of wide-format printing services in Barcelona.
GreenPrint® Process Sustainability
Grafitex's GreenPrint® Process policy seeks to minimize the company's environmental impact by utilizing sustainable processes and technologies in production. The procurement of the Anapurna H3200i LED aligns with this policy, as the printer incorporates several sustainable features. For instance, the GreenGuard Gold certified inks used by the printer ensure minimal emissions of volatile organic compounds (VOCs) and the absence of harmful substances that could impact health.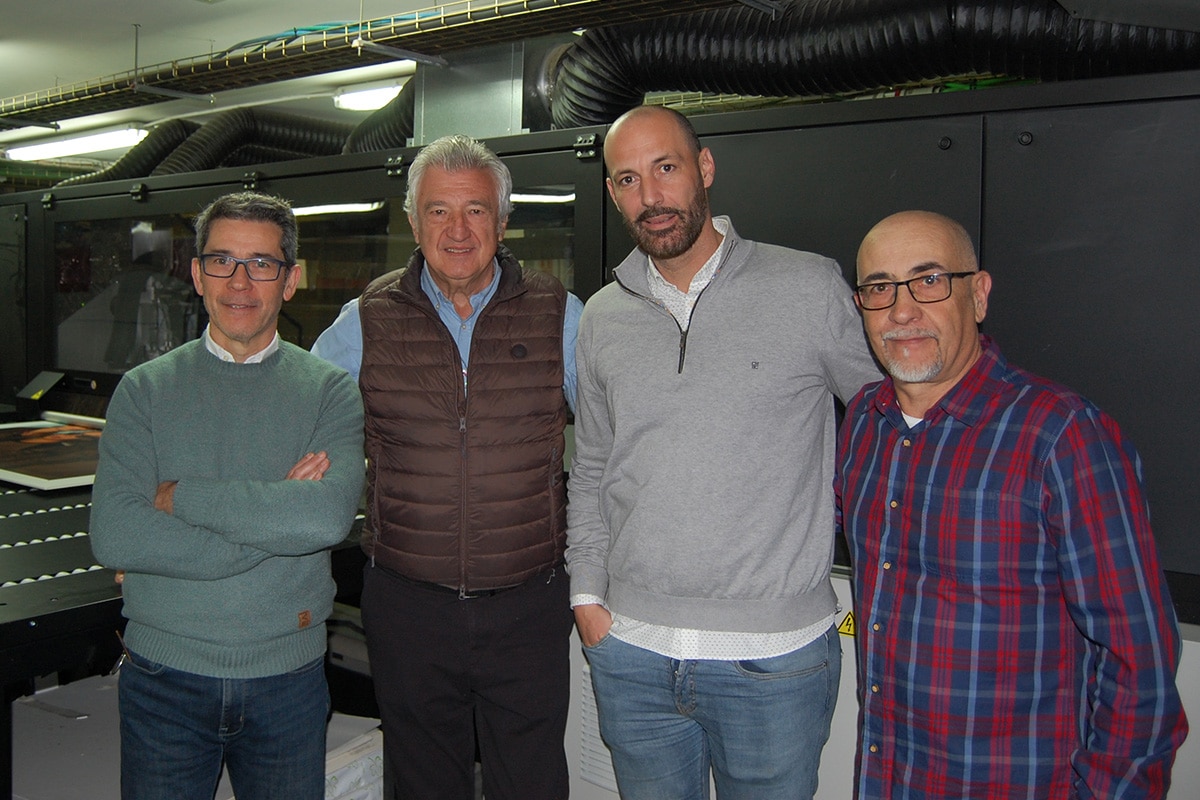 The Grafitex team with the Tauro H2500 LED: José Martín, Joan M. Beltrán, José A. Carmona, Emilio Alvarez
In addition, the Anapurna H3200i LED printer stands out for its low energy consumption, effectively reducing Grafitex's carbon footprint. The printer's uses LED technology for ink curing, which not only lowers energy consumption but also prolongs the lifespan of the lamps and lowers maintenance costs.