Effingermedien, Switzerland – "Our IT department can focus on more fundamental tasks now"
When the production departments of two Swiss printing companies joined forces and moved to one location, Agfa facilitated the challenging restructuring process. Crucial element was the deployment of the Apogee workflow software in the cloud.
Effingermedien AG and Binkert Buag AG moved to one location (Kleindöttingen). Agfa was consultant, process optimizer, training company and moving company. Both companies unanimously state: without the help of Agfa, the establishment of a modern and well-functioning premedia department would not have been possible this quickly. Agfa offered essential support in an essential field.
The starting point
At the starting point of the project lay the fusion between two Swiss printing companies: Effingerhof AG (Brugg) and Binkert Buag AG (Laufenburg). It was clear right away that both companies would need to transfer their heavy metal (sheetfed offset presses, finishing equipment, logistic services) to a new site. Both companies had well-performing, modern premedia departments. And both departments had one thing in common: they used Agfa's Apogee workflow software.
Cédric Kaiser, Managing Director Effingermedien AG: "We were looking for a site and found it sooner than expected in Kleindöttingen." Nils Spielmann, Account Manager, Agfa Switserland, adds: "We were already involved before and had thought about the move. One of our ideas was to unite the premedia departments of both companies by means of a cloud solution. This was already decided on before the new locations was chosen."
For Bruno Imhof, Operations Director and member of the Board of Directors of Effingermedien it was clear: "In any case, we were heavily involved in the merger of two companies with different ways of working and working cultures. While we both worked in the premedia departments with Agfa's Apogee workflow, that did not mean much for a merge. We were challenged by the changes at the organizational and work process level, and at the same time we had to bring the employees together. Everyone knows what that means. In this situation, we were unable to take care of technical processes and in-depth IT analyzes as well. For us, there was simply no time for this with six months to go."
Cédric Kaiser points out another point: "Moving our pre-media and press operations to one location meant that we would be producing significantly higher volumes, which had previously been spread over two locations. This led to completely new challenges, for example in printing plate logistics". In the end, it was decided to rely on two suppliers to support the move: Agfa took on the planning and implementation lead in the pre-media area and Heidelberger Druckmaschinen AG in the pressroom.
The implementation
It was an intense time for Nils Spielmann and the team at Agfa Switzerland: "One big advantage for us was that we had close contact with both companies before the merger and knew their structures. When the merger became known, we were able to design different scenarios right from the start. When we received the order to accompany the relocation and the transformation of the two companies to Effingermedien AG, we already had ready-made solutions. A first, very important step was the migration of locally installed on-site Apogee workflow systems to a common Apogee Cloud workflow." Nils Spielmann: "Doing this had very pragmatic reasons. With a cloud-based workflow, we did not have to move any hardware from Brugg and Laufenburg to Kleindöttigen. Everyone involved appreciated this!" But the real tough work was yet to come. Nils Spielmann adds: "We analyzed exactly how the two companies had worked. We considered how we could match the partially different ways of working and made suggestions to both teams. The second step was to align the operational processes with regard to the new location in Kleindöttigen."
In addition to the production workflow, it was also about finding a solution for the doubled printing plate production. Due to the know-how and the recommendations of Agfa, Effingermedien AG invested in a fully automatic plate sorting machine from Nela. After the move had taken place and the installations were made, the task was to permanently improve the processes and make them more efficient. This is a task that continues to this day and will contintue in the future. For Bruno Imhof, one insight from the whole project is particularly important: "Through the precise and external analysis we have learned a lot about Apogee. We realized that at the old sites the potential of this workflow, in terms of efficiency and productivity, has never been exhausted. Therefore, it is important for us to continue to explore the possibilities of Apogee on a daily basis in close cooperation with Agfa."
When asked whether working with Apogee Cloud is fundamentally different than before, Mandy Kruschke, Team Leader Media Production Effingermedien AG, answers: "Not really, but you have to consider the peculiarities of production via a cloud. Previously, the employees of the Premedia department worked on a job and sent it directly to the RIP of the platesetter. Today, all processes are in the cloud. Therefore, you have to adjust your own way of working, for example, if you submit a file for rendering, it takes up to 15 minutes today until the data are sent to the platesetter. Before, it happened immediately. Because the staff were used to this process, they just waited in front of the screen until the rendering was complete instead of doing some other work in the system. That's why productivity initially dropped noticeably, and at first we had no idea why! Now that the teams have adapted their way of working, productivity is higher than before." The case clearly shows that efficiency issues often have less to do with the technology used, and more with the process steps and ways in which employees work.
Another world
With the introduction of the cloud workflow at Effingermedien AG, the relationship between the company and Agfa has changed: they work much more closely together than in the past. While the collaboration with Agfa in the day-to-day business has become tighter (when there is a problem, we call the hotline or create a service ticket), the company's own IT has been relieved, because they no longer have to worry about the hardware. It can devote itself to more fundamental tasks, as Cédric Kaiser puts it. Even updates that were previously always a relatively complicated matter, pass smoothly today. Less effort for the company's own IT department, additional work for Agfa: that is how you can roughly summarize the impact of Apogee Cloud. And thanks to the cloud, of course, the efforts for Agfa are also decreasing in some areas. Updates to the globally distributed Apogee Cloud workflow applications are coordinated by the large server center in Mortsel, Belgium. Customers of Agfa Cloud solutions are in frequent contact with their contact persons. Mandy Kruschke puts it this way: "In the past, we bought a CtP solution and workflow from Agfa. Agfa's representatives, other than the service technicians, came to visit once or twice a year after installation. In the hardware area, of course, this is still the same, but with the cloud workflow, the mutual exchange is much more intense. It is often not about problem cases, but about active exchange, to improve the system together. Also, much more training takes place than in the past."
Mandy Kruschke makes another statement: "We feel that Agfa has undergone a cultural change. Today in the workflow area we deal with people who come from the field, have detailed knowledge and speak our language. This is important to us, because the classic salesman, who first has to interact with his specialists internally to find an answer, simply has no place in the fast-paced developments that printers have to deal with." Bruno Imhof comments: "In the past, we often worked with independent external consultants in the technical field. But these people are just too far away from the practice when it comes to setting up a workflow in a cloud, for example. That's why we need suppliers with whom we can work closely and honestly. Honesty means, for example, that our supplier presents the most suitable and efficient solution for us and does not try to sell us things that we do not really need." Cédric Kaiser: "We need real partners and not suppliers. Of course, this does not apply to all areas of the company, but we are dependent on such partnerships for issues as fundamental as premedia workflow or pressroom operations. Here, the overall structure is now so complex that a printing company, even one of our size, can no longer handle it without outside help. Agfa is one of the companies we can partner with."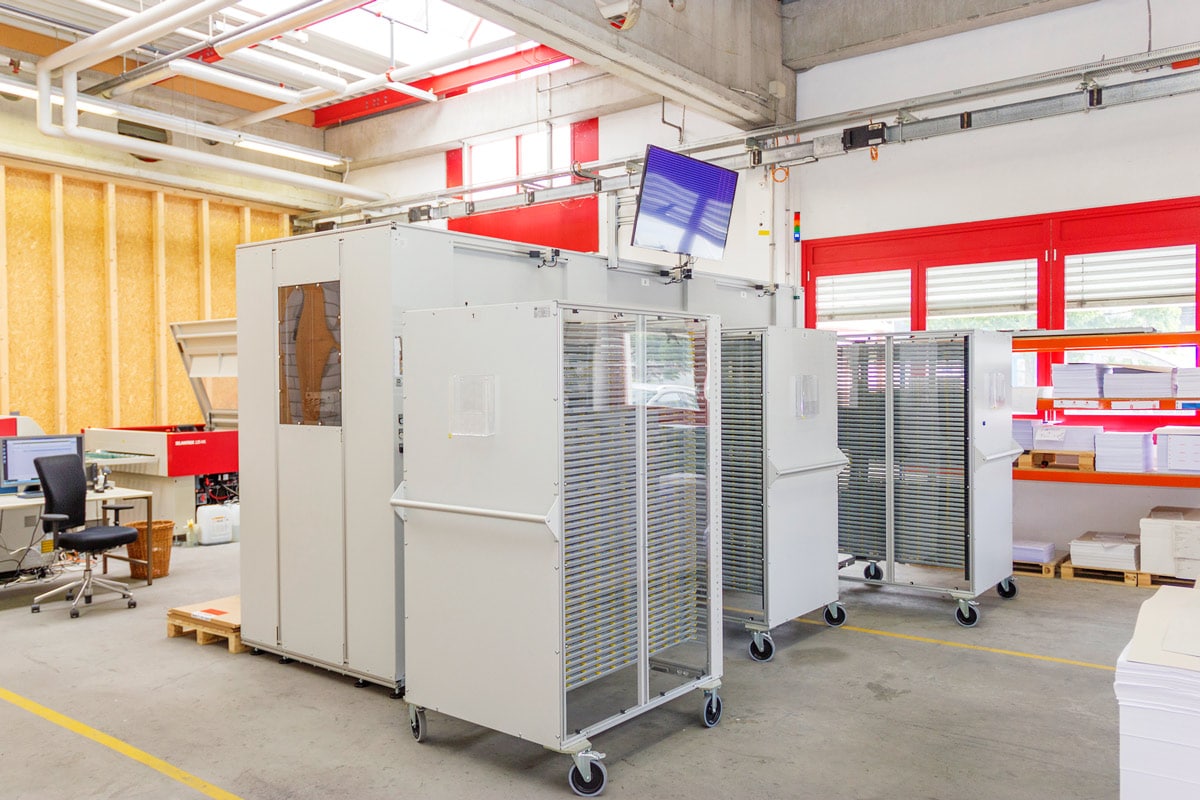 In a multi-stage process, which initially involved the merger of two production departments of Effingerhof AG and Binkert Buag AG, culminating in the relocation of the two divisions under a new and shared umbrella in Kleindöttingen, Agfa acted as a consultant, process optimizer, and training company.