CPG realises benefits of Agfa's InkTune & PressTune
Print solutions provider, CPG, has become Agfa's latest customer enjoying the benefits of ECO³ software working with their new CTP solution and presses. The results are delivering the business higher than forecast savings on ink, waste and water.
Earlier this year CPG, based in Tonbridge, invested in Agfa's Apogee workflow to drive a new Avalon N4 platesetter imaging Azura TU through to the CX85 clean-out unit. A new prepress solution was needed that increased the speed of plate production to hungry presses that assisted their environment improvement drive (ISO14001 compliant) and offered an improved workflow solution.
"The Agfa Azura plate rinse gum unit offers us a chemistry free process, great for the environment and it's not only tried and tested but well known to be number 1 in the market.  Our old processor was producing around 12 plates per hour, the Azura has doubled that, it's twice the speed and completely obliterates the pre-press bottle neck we had in the business."  Said Steve Kirkham, Director for the Group. 
"But it was the Apogee suite of workflow management products that really swung the deal to Agfa for us. It enables us to control every phase of the production process from a single user interface.  It keeps an overview of our PDF files with Preflight and calculated ideal impositions with Impose."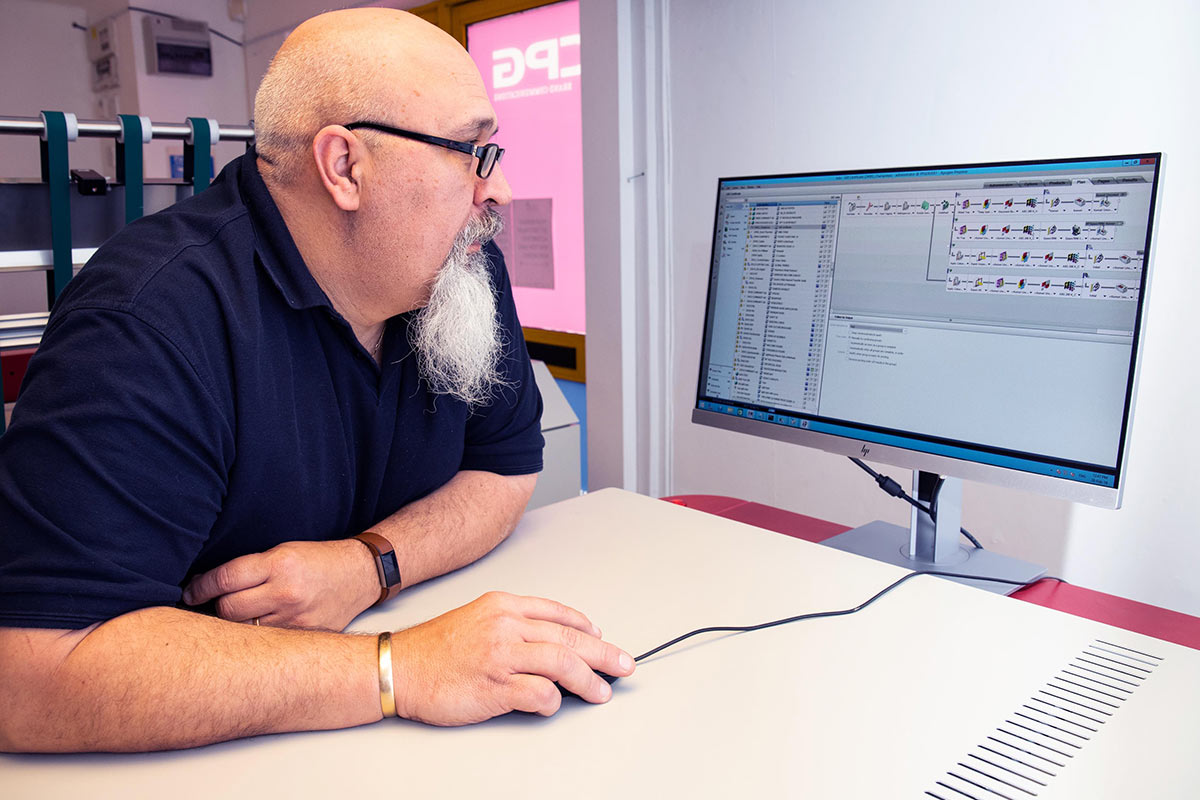 Last month saw the final piece of the ECO³ solution completed – the installation of PressTune and InkTune from Agfa. These two unique software solutions are quoted to have already delivered impressive environmental benefits and cost savings.
Mark Hall, Pre-press manager from CPG agrees; "One month in we are already seeing impressive results from InkTune and PressTune both on the quality and consistency of our print."
InkTune and PressTune have been specifically developed to reduce consumption of paper, ink and energy, while improving output quality. Consistent colours and faster make-ready times are just some of the benefits that Agfa's PressTune offers. This unique tool ensures that jobs are consistently printed to ISO, G7 and client specific colour standards. The combination of PressTune and InkTune reduces the overall ink usage, improves quality and speeds production workflow so both the printer and the customer benefit.
"This is another great example of an ECO³ success story." Said Barbara Cooper, Pre-Sales Consultant at Agfa.  "We have been promoting our ECO³ partnership solution since early 2018 where an 'Environmentally friendly' solution such as our Azura TU plate is accompanied by an 'Economic' benefit to our customers that's also 'Convenient' or easy to use. ECO³ is a principle we use when specifying a solution. There's little take up on an environmental benefit if it doesn't save costs and isn't easy to use."
CPG started as a four colour Litho printer in 1986 and has successfully navigated its way through a vastly changing landscape, flexing to embrace new business opportunities along the way.  Their reputation for quality and integrity has become a great foundation for their recent investment in growth.  Today the business employs 26 staff, has two Komori 5 colour presses, its own in-house finishing department and a digital print division for shorter runs, secure printing and personalisation.  It has also entered the wide format market with an entry Roland ink jet press, supporting its blue-chip client demands for a full marketing support service.
It appears to be quality that drives a lot of decisions within CPG, which is particularly important when supporting some well know brand owner clients across the car industry, leisure and professional sectors.  Steve concluded:
"We are really pleased with the quality of Agfa products. It took some planning but the installation was seamless and it is doing exactly what Rob at Litho Supplies promised it would do.  We now have a close working relationship with Agfa and we hope that our partnership will grow."