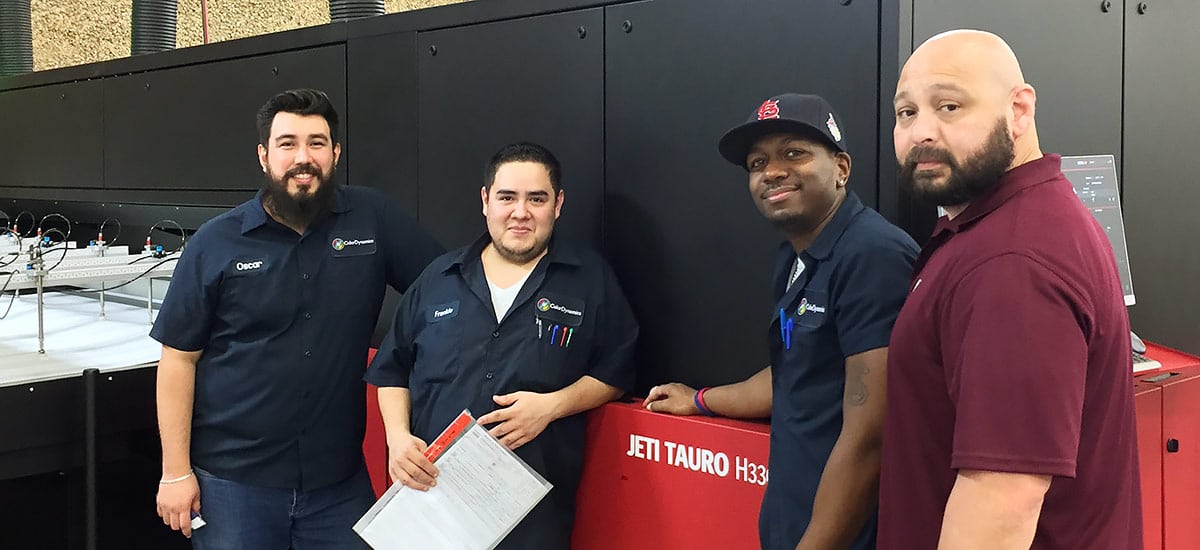 From left to right: Oscar Perez, Frankie Rivas, Lawrence Adams & Robert Pequeno
ColorDynamics increases retail production with vibrant Jeti Tauro
ColorDynamics is the largest privately held commercial printer in the Southwest of the USA offering sheet-fed and web printing as well as digital and wide format options with state-of-the-art prepress, finishing, and shipping services. During the last 33 years, the company has built a solid reputation for providing quality printing and innovative graphic communication services that exceed clients' expectations.
With objectives to continually improve its services, expand capabilities, and surpass exceptional quality standards, ColorDynamics recognized it was at a crossroads with its wide format business. Increasing inkjet workloads required operating two full shifts, yet seasonal upticks impacted workflow. To better support the wide format growth trajectory, ColorDynamics knew it needed to invest in an additional printer to handle more direct-to-store retail business.

Fully automated Jeti Tauro H3300 LED increases wide-format capacity
"We want to run all our jobs to completion, not have some projects stack up while we produce a massive retail order on one device," says John Ehrenberger, Executive Vice President of ColorDynamics. "We have such confidence in the Agfa portfolio; it was natural for us to consider the Jeti Tauro H3300 LED. We chose the fully automated Jeti Tauro H3300 LED to increase our production efficiency. We can produce 80 boards per hour in production mode that are incredibly vibrant, which is increasing our output capacity by 2 1/2 times."
We have such confidence in the Agfa portfolio; it was natural for us to consider the Jeti Tauro H3300 LED.
John Ehrenberger
Executive Vice President, ColorDynamics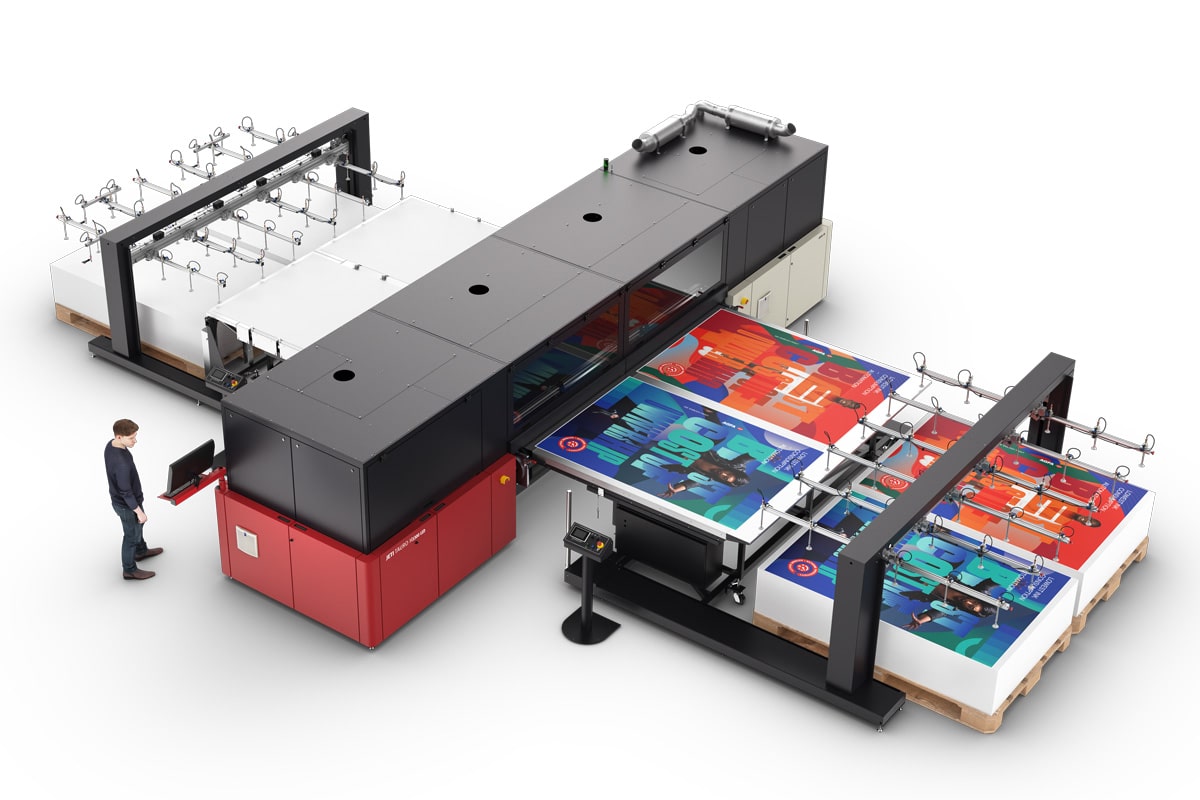 Higher quality output at greater production speeds
The wide format engineering expertise or Agfa Value pays off for sign and display businesses that enjoy a lower total cost of ownership. 'Thin ink layer' technology uses pigments with exceptional color strength. This reduces ink consumption per square meter to the lowest on the market. In combination with the benefits of Asanti workflow algorithms, the Agfa wide format portfolio delivers higher quality output at greater production speeds.
The Jeti Tauro H3300 LED produces prints up to 130 inches wide (3.3 m) at speeds up to 4,876 ft2/h (453 m2/h) at up to 635 x 1200 dpi resolution. This heavy-duty hybrid prints flawlessly on rigid or flexible media and is ruggedly built to comfortably handle extreme workloads, multiple shift operations, and 24/7 printing.
Award-winning image quality
Offering multiple levels of automation, the Jeti Tauro H3300 LED offers full automation, semi-automation, roll-to-roll or manual loading and unloading. ColorDynamics decided on the fully automated Tauro H3300 LED featuring a feeding and unloading system that can process four boards automatically, reducing idle time and increasing production efficiency. While one set of boards are printing, the next is preparing for print. Asanti's built-in color management offers consistent color saturation and reproduction.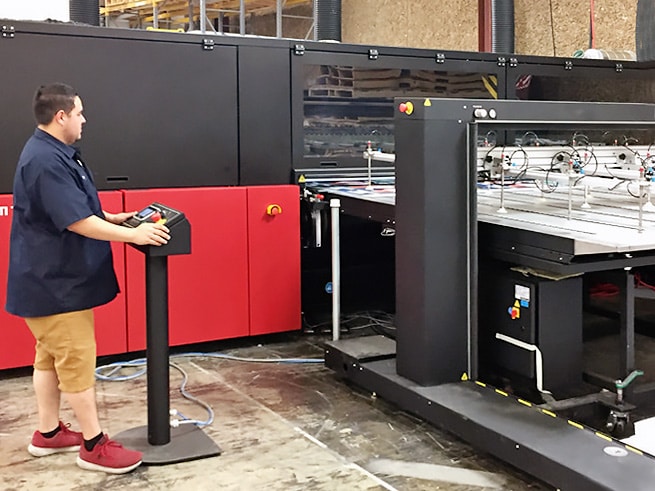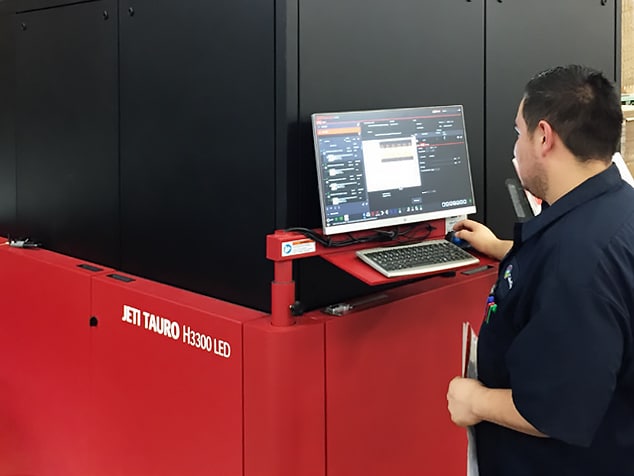 The Jeti Tauro H3300 LED offers award-winning image quality in six colors plus white or primer. ColorDynamics chose the six-color plus white configuration on the Tauro H3300 LED for outputting on backlit media like window clings and creating an opaque white background or for using white as a spot color on styrene, foam, and coroplast boards.
Direct-to-store with unprecedented speed
"Our business is evolving and today's customers need their projects shipped to multiple locations nationwide, and they wanted it yesterday," explains Ehrenberger. "We're doing more and more direct-to-store. We can customize jobs for each location, rip files quickly, and with the new Tauro H3300 LED, output with extreme productivity. We are delivering client campaigns with unprecedented speed, and we're proud to say that no other printer in the region can match our capabilities."

With the new Jeti Tauro H3300 LED, ColorDynamics will meet its goal of delivering high-quality prints faster, direct-to-store, while continuing to exceeding client expectations.