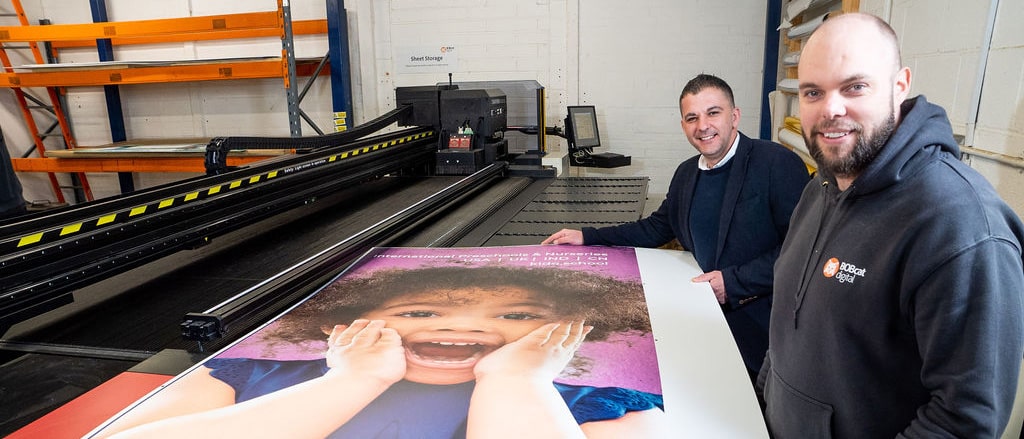 L-R: James Argent from Agfa with Rob Blackburn from BOBcat Digital
BOBcat Digital expands printing business with hybrid Anapurna inkjet printer
BOBcat Digital, based in Milton Keynes, has become another print manufacturer to invest in an Agfa wide-format engine. They took delivery of an Anapurna H3200i LED hybrid machine at the end of 2022 with installation and training completed in January 2023.
The new Anapurna engine is 3 times quicker with much better quality and has substantially reduced our overtime bill.
BOBcat was established in 2013, set up by three colleagues who had previously worked together in the litho print market. Managing Director, Rob Blackburn may have an established litho production background, but the BOBcat business focuses on digital print and produces banners and graphics largely for the events and exhibition market. They have a spread of different customers covering lots of sporting events, especially over the summer months, and exhibitions throughout Europe.
"We started the business with an entry-level roll-to-roll 1.3m digital printer 10 years ago in our first premises in Bletchley Park." Said Rob. "We've moved premises twice since, each time to larger facilities with the capacity for more equipment and staff as the business grew. We've been in our current premises for 6 years and this most recent investment of the Anapurna H3200i LED print engine is a gamechanger for us."
BOBcat, who now employ 7 staff, had a busy 2022 with a continually growing order book that resulted in his team working lots of overtime and outsourcing more and more print by the year end. The Anapurna has changed all that with print speeds increased threefold and with improved quality too. Rob Blackburn explained that some of the events they supply had previously required over 100 hours of print, reducing that by a third to 30 hours makes a project much easier to plan. The reliability of the Anapurna has apparently given them much more confidence in hitting tight lead times too.
The team at BOBcat looked at lots of wide-format machines when they decided that they needed to purchase more capacity and they were very impressed with the running costs and ink usage of the Anapurna engines, where cost calculations brought Agfa in at ½ the running costs of some in the market.  But the main reason Rob was sold on the Agfa machine was due to the Asanti workflow which he was very impressed by, he explains why: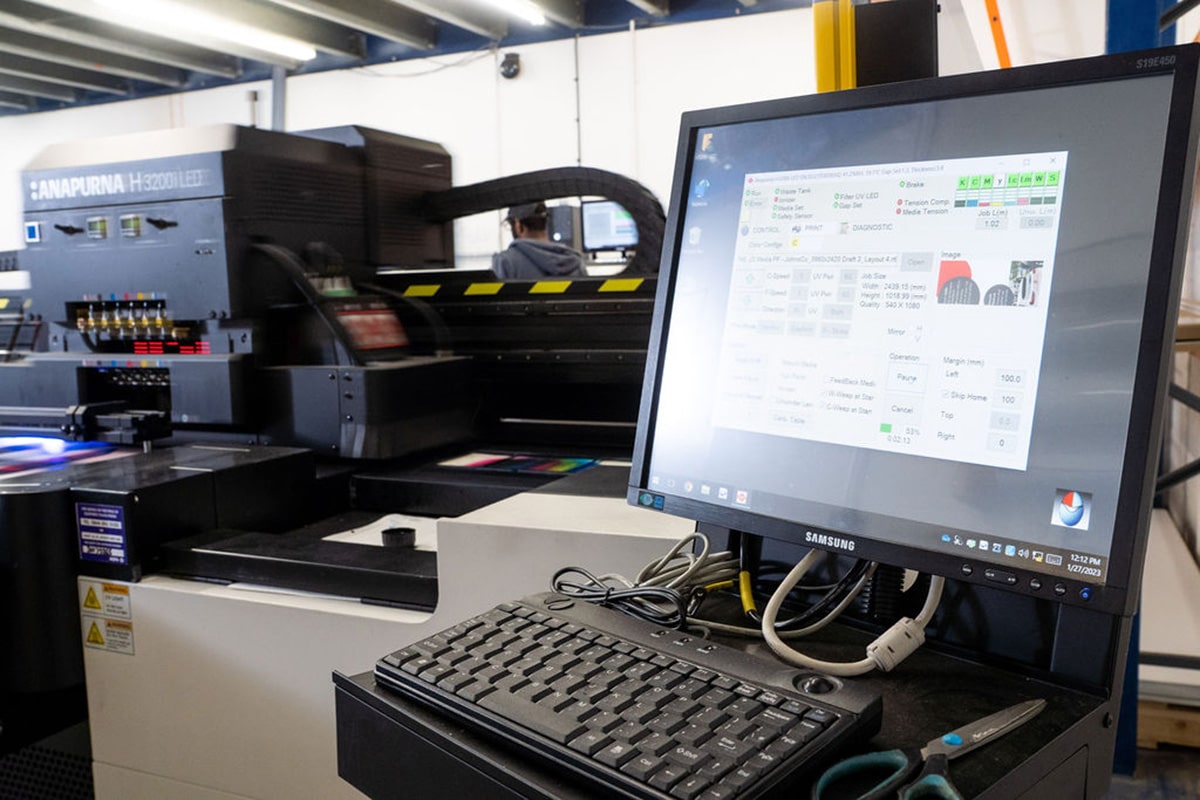 The Asanti workflow software was a huge contributing factor when switching to the new Agfa machine.
The Asanti workflow was the main reason we moved to Agfa. It's the best RIP software from those I reviewed.
"As my background is litho print production, where pre-press accuracy is critical, the RIP software is a very important consideration for me. Agfa's history is pre-press, they understand it and that's so obvious in the Asanti workflow. On wide format it seems to be more normal to sort out any issues on press but that's time-consuming and costly. So, at BOBcat that responsibility lies with our pre-press design team which makes the print operations much more efficient. It reassured me that I'd made the right decision for the business when Graham Clark, Inkjet Systems Specialist at Agfa, who is a workflow guru and loves Asanti, came to do the training, what it offers is very impressive."
The Agfa wide-format hybrid Anapurna LED series is perfect for printers that want to combine board and roll-to-roll jobs. The engines print at a width of up to 3.2 m and combine high print quality with high productivity for outdoor and indoor jobs.  The white ink function creates possibilities for printing on transparent material for backlit applications or for printing white as a spot colour. They are fitted with air-cooled UV LED lights that save energy, costs and time and are ideal for heat-sensitive materials. They also lead to a faster process as they can be switched on and off instantaneously and it boasts 'Thin Ink Layer Technology' resulting in one of the lowest ink consumptions in the market.
Final word from Rob: "The overall training and support package from Agfa has been very good. Our operators are happy with the Anapurna and find it easier to use. In fact, they want to put all jobs on the Anapurna as it's so much faster and with great quality results. It's early days and we haven't had the chance to go to customers and sell the machines capabilities, but it will help us move into new products too. It's already changed and improved how we print our Aluminium Composite Material ACM metal signage where we used to print on self-adhesive vinyls and mount them. Now we can print directly, which brings down costs and speeds up the process. The icing on the cake for me was the Agfa finance package which is a good solution instead of using a 3rd-party finance house and having to personally guarantee the loan. So overall I am very happy with our decision so far…."