Artfix and Agfa celebrate one year of partnership
"We increased productivity, quality and reliability"
The performance of the Jeti Tauro H3300 LED large-format printer, in combination with Asanti workflow software, and completed by in-depth consulting and a fast and complete service offering, made Brazilian visual communication company Artfix opt for Agfa to maintain its high printing quality standard. Their latest purchase also gives them new possibilities in terms of process efficiency and the complete integration of their printing plant.
Artfix, a leading company in the visual communication industry, is located in Itupeva, a strategic industrial region of São Paulo, where it operates Brazil's most modern and efficient printing plant, covering two warehouses with 64,500 square feet each.

The company produces exclusive and custom visual communication materials at competitive prices. Their specialized team of professionals ready to embrace everything from the simplest to the boldest projects, either by developing and installing special projects, or by producing merchandising materials and points of sale materials, as well as fleet and aircraft adhesives.
To achieve this, Artfix relies on state-of-the-art technology to quickly deliver tailored solutions, from simple decorations to nationwide campaigns.
Jeti Tauro H 3300 LED boosts printing quality and versatility
The partnership between Agfa and Artfix began with the purchase of a Jeti Tauro H3300 LED around a year ago, which changed the company's production concepts, according to Marcos Sapia, founding partner of Artfix: "A year ago, we decided to invest in Agfa technology, which none of us had any experience with before. And the experience was really good. I'd even say that it exceeded our expectations," he adds.
Our experience with Agfa was really good. They exceeded our expectations.
As for the choice, Bruno Sapia, managing partner at Artfix, says "When we started shopping for a new machine, we did a lot of research and focused on print quality, operating costs, color gamut, reliability, and technical support. All of that was taken into account in our choice."
The equipment's efficiency is attested by the widespread acceptance of Agfa's Jeti Tauro LED printer family, already under full operation in Artfix's new warehouse in Itupeva.
"Artfix operates in a highly competitive market. Speed, quality, and the structure of a visual communication company are crucial to reach the results required by our clients and the advertising market," said Fábio Martin, business and operations manager at Artfix.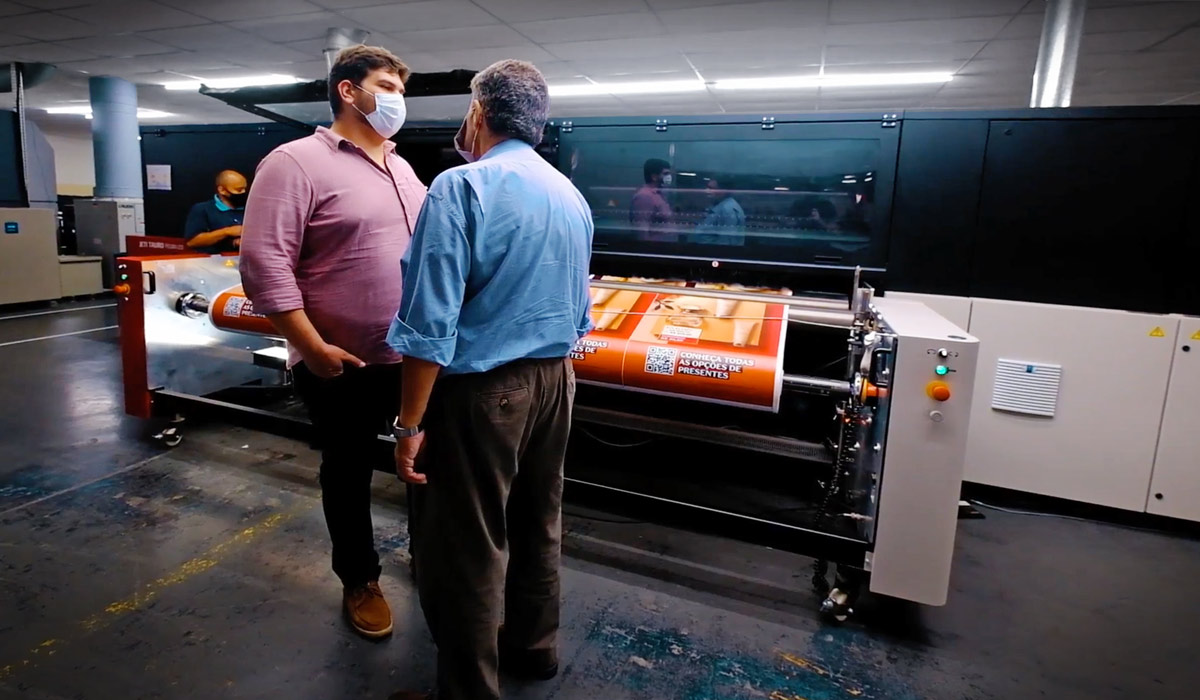 Workflow software takes production to the next level
Automation and connectivity have never been closer together. With Agfa's Asanti workflow software, Artfix enhanced its production efficiency as a whole: on the one hand with tools to automatically check files during the prepress stage, and on the other hand, as it now has complete control over every piece of equipment in its printing plant through dashboards and statistics that provide accurate data regarding job status, use of ink and supplies, and production time.
"Thanks to all of the points I've mentioned about Agfa, our current production capacity is amazing. It has been boosted by Agfa's arrival. The Jeti Tauro H3300 ensures quality, reliability, and 100% on-time deliveries," said Bruno Sapia. "We're very pleased with the machine. We definitely made the right choice of equipment," adds Marcos Sapia.
Agfa stands out by delivering efficient support
"An extremely high quality combined with an increased commitment to deliver products on time, with the required quality and at the agreed price: That was only possible thanks to Agfa's years of experience in the market and the process improvements that Agfa rolled out throughout the years. We boast more than 150 years of history in the market and more than 20 years developing workflow software, as well as another 15 years manufacturing printers such as the Jeti Tauro," said Herick Lytk, inkjet sales executive at Agfa Brazil.
Sustainability and compliance
Herick Lytk, Inkjet sales executive at Agfa Brasil, sees a role model in Artfix: "Sustainability, technology, and compliance: those are all topics that have become increasingly relevant in today's world. Because of that, companies like Agfa and Artfix team up to join forces, and we definitely need more committed people and companies to deliver these fundamental elements."