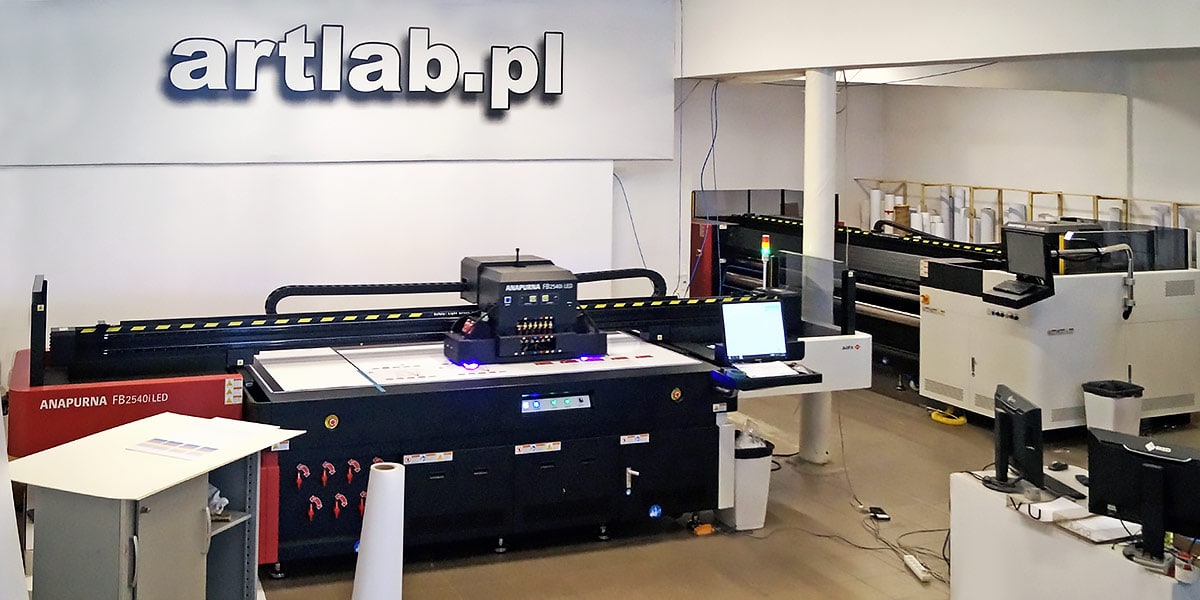 Purchase of two extra Anapurna printers enhances Artlab's productivity while also expanding media scope
At the end of 2019, Artlab.pl (Warsaw, Poland) invested in two new large-format UV LED inkjet printers from Agfa. The Anapurna RTR3200i LED roll-to-roll printer will improve the printing company's production on flexible substrates. The other engine is a true flatbed printer, the Anapurna FB2540i LED.
Just like the hybrid Anapurna H3200i LED large-format printer that Artlab.pl acquired only two years earlier, both engines make use of UV LED curing technology, which enables printing on a wider range of substrates, including heat-resistant materials.
Andrzej Lemiesz, owner of Artlab.pl, estimates that new investments have at least doubled the potential of his company. "Both investments have been driven by market demand, i.e. the growing number of orders, but most of all their increasing diversity," he explains. "The Anapurna H3200i LED hybrid engine that we purchased two and a half years ago, has proved to be a great solution, working virtually flawlessly, yet due to the dynamic development of the whole company, further investments were necessary. This time, we opted for printers that are dedicated to particular substrates that we specialize in. Hence, on the one hand, the purchase of a roll-to-roll printer and, on the other hand, a true flatbed device."
Anapurna RTR3200i LED – efficient printing of roll materials
As Andrzej Lemiesz emphasizes, Artlab.pl is known mainly for its prints on flexible substrates. For this reason, when deciding to modernize the equipment park, he first of all focused his attention on Agfa's roll-to-roll printing solutions: "The Anapurna H3200i LED hybrid inkjet printer was already the fifth machine of this manufacturer in our company. Therefore, when thinking about the next investment, we were really only considering Agfa's offering. There was no shortage of arguments to opt for Agfa for our next printing solution: reliability, high-quality inks, professional service… Looking at the proposals, which were submitted by Adriana Piotrowska-Ineksiak from Agfa's Polish branch, who has been taking care of us for years, we decided that the optimal model for our production would be the Anapurna RTR3200i LED."
According to Agfa, the model chosen by Andrzej Lemiesz is a heavy-duty machine, designed to work around the clock, dedicated to both external and internal applications of high quality. The device prints in six colors and supports numerous flexible media (including mesh banners, textiles, paper) with a maximum width of 3.2 m. Its design also allows for simultaneous printing of two narrower media rolls – each 152.4 cm wide.
There was no shortage of arguments to opt for Agfa for our next printing solution: reliability, high-quality inks, professional service…
Andrzej Lemiesz
Owner of Artlab.pl
"Atrlab.pl is an example of a customer that is developing together with us, and our evolving large-format printing engines," says Adriana Piotrowska-Ineksiak, Regional Sales Manager of Agfa's Polish branch. "What is worth emphasizing is that currently all Anapurna printers used at Artlab are based on UV-LED technology. This not only expands the portfolio of media used here (e.g. heat-sensitive substrates), but also enables energy consumption, and a reduction of costs and time needed for the realization of a given job. The purchases of the Anapurna RTR3200i LED, and soon afterwards the flatbed Anapurna FB2540i LED, were well thought out, allowing Artlab.pl to carry out much more work."
See the Anapurna FB2540 LED at work at Artlab in these movies: