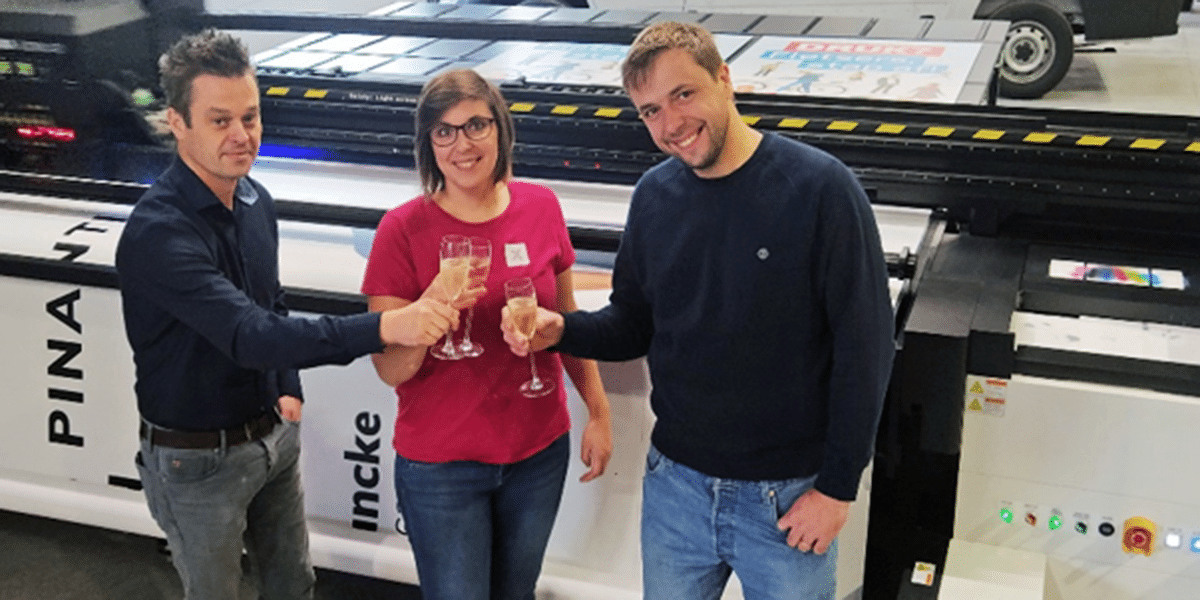 New Anapurna H3200i LED printer gives Logiegrafix growth space
Agfa recently installed a new Anapurna H3200i LED hybrid printer at Logiegrafix. Manager Esli Logie: "We initially had a smaller model in mind, but Agfa convinced us to go bigger and look beyond our current needs. In retrospect, we are very happy that we listened to them, because now we can process almost all orders in-house and there is still room for more."
When Esli Logie set up Logiegrafix in 2015 as a one-man business, he could never have predicted that the company would have 10 employees six years later and be located in a large new building. Logiegrafix focuses on both small and larger SMEs, with visual communication solutions that perfectly match their needs. Their offering ranges from lettering and signage to car wrapping and illuminated signs in all shapes and colors. The multifunctional team has a lot of experience and expertise in different domains, which allows them to guide customers from the design to the realization and installation of all kinds of signage.
New construction with room for expansion
With the growth of the company, the existing location became more and more cramped. Hence the decision to move to a large new building. Esli: "At the old site, we were really on our toes and there was simply not enough room for an extra printer. With a new building you can start from a clean sheet and furnish the space completely as you wish. I don't have a crystal ball, but we have taken further expansion into account in the design. So there is still enough space to place additional equipment if necessary."
Optimized production flow
The new Anapurna H3200i LED was placed in a near-line configuration with an equally new Summa cutting table. Esli adds: "We have specifically opted for a printing solution with manual input and output of boards. The output of the printer matches the cutting table almost seamlessly, so that one operator can operate both. The production flow has been optimized in such a way that we can achieve maximum output with minimal effort. In addition to the cutting table, there will also be a dedicated milling machine, so that we can both cut and mill at the same time."
With the larger print width of up to 3.2 meters and the possibility of processing both boards and roll material, we can now do almost everything in-house.
Priska Logie
Print Production Manager Logiegrafix
Doing more in-house
The main motivation for investing in hybrid printer from Agfa was mainly to be able to carry out more jobs in-house. Priska Logie, sister of Esli and responsible for print production within Logiegrafix, says: "Previously we were able to process about 70% of the orders in-house, but thanks to the larger print width of up to 3.2 meters and the possibility of processing both boards and roll material, we can now do almost everything ourselves. Especially the fact that we can respond quickly and maintain control over the end result is a huge advantage. The hybrid configuration also makes it easy to cluster orders by substrate type. We mainly process sheets and boards during the day, but we also do roll-to-roll printing after hours, because that can be done unsupervised."
Short communication lines
When asked why they decided to work with Agfa, Esli answers: "There are several reasons, but one that stands out clearly is sales rep Niko Dheedene's approach. We make sure that we think along with our customers and I immediately had that feeling with Niko too. He knows what he is talking about and no effort is too much. Demos were prepared down to the last detail and he also dropped by during the installation and start-up, to see if everything was ok. It went really well by the way: a big compliment to the service team and installers. You can see that Niko has confidence in the product and rightly so. Print quality is top notch and the prints continue to look good, even at high printing speeds. Highly recommended!"