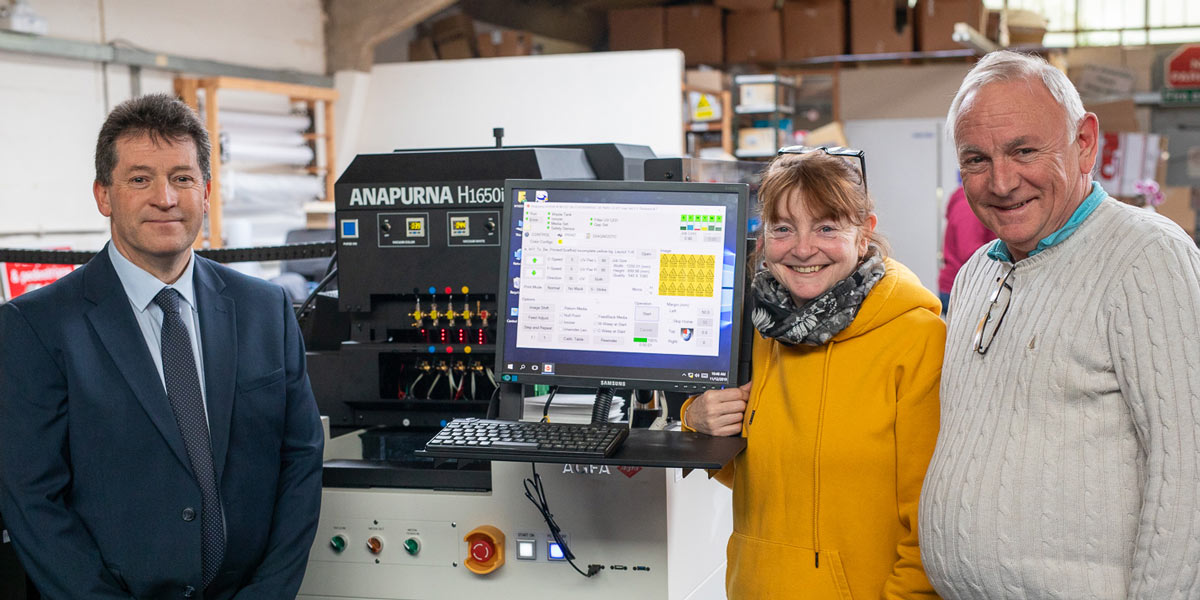 Agfa's Anapurna opens new markets for Bedfordshire sign business
Owner partners, Sylvia and Bill Islip of Trade & Discount Signs in Sandy, Bedfordshire, are no strangers to Agfa products, having run a wide format Agfa inkjet printer for over 6 years.  But having just replaced it with a new and faster model, the Anapurna H1650i LED, they've seen immediate benefits for their 30-year old business.
Installed in September this year, Sylvia comments, "It may be the smallest Anapurna engine and great value for an industrial printer, but it was still a considered investment for a business of our size. However, the benefits we've seen within the business already have been huge. The new print engine is on average five times faster than the old machine which has given us much more time to look at new products, approach new markets and broaden our customer base."
Other benefits quoted by the partners included the energy savings made by the LED bulbs on the Anapurna and the vast improvement in quality, particularly when printing white on to a material. They can now print to rigid media and the ink is fixed without having to laminate, massively reducing the production time and cost of materials.
They were also impressed that the machine now has small stirrers on each ink tank (with back up batteries should the electric cut out) which constantly stir the inks to stop the pigments congealing. And the Asanti workflow, driving the machine, was said to be very simple to use.
Trade & Discount Signs began trading with Bill at the helm over 30 years ago. Bill wasn't a printer by trade, but a Civil Engineer and came into the trade almost by accident. He started producing golf signs and four years in was at the forefront in the requirement for health & safety signage and his business grew with this new and buoyant market. In these early days the production process was very time consuming with the hand cutting of vinyl and overlaying. Today it's a much more automated process but their experience over the years has meant that they've become experts in their field, quite often auditing local businesses to advise Facility Managers on their health & safety requirements.
Ten years ago Sylvia joined the business to bring marketing skills to the company and broaden its client base. They've had some success with temporary road signs and Lean personalised signage within manufacturing businesses being added to their product offering. They are excited that the new Agfa press will help them fulfil other targeted areas that they didn't have time to work on before.
Trade & Discount Signs now reside in their third business premises, each time increasing in size with demand and some of their customers now come from further afield, mainly as facility managers move to new businesses they still relay on the expertise of the business. They now have 6 employees and a latex printer to accompany the new Agfa system along with a cutting and router machine.
I was actually staggered at how smoothly the installation went. We were up and running in just two days. We are very fond of our local and favourite Agfa engineer Marcus, who we have worked with for the past 7 years.
Sylvia and Bill did view alternatives when they decided to replace their wide format printer but concluded that Agfa's Anapurna H1650i LED was a perfect entry level industrial machine at an affordable price point. At 1.65m wide, Agfa's Anapurna H1650i LED is the smallest member of the Anapurna family, designed as an accessible hybrid printer with high quality output. It shares the same features and benefits of high-quality imaging, ink-saving thin ink layer technology and perfect white ink printing reliability yet is less expensive and will fit into smaller spaces. It still features automatic head height measurement, crash prevention, an anti-static bar and air-cooled UV LED lights that allow printing on thin and thermal sensitive materials. It is also driven by the intuitive Asanti workflow too.
The machine was installed in just two days last September and Sylvia agrees that she was impressed with the service, she concludes "I was actually staggered at how smoothly the installation went. We were up and running in just two days. We are very fond of our local and favourite Agfa engineer Marcus, who we have worked with for the past 7 years."
Sylvia Islip, Trade & Discount Signs, 4 Darlington Close, Middle Field Industrial Estate, Sandy, Bedfordshire. SG19 1RW t: 01767 680889